The North Salem Old Fashion Days festival is a much-anticipated, annual event in Hendricks County. From pie-eating contests to quirky and hilarious bed races down Pearl Street, this long-time, small-town Labor Day Weekend gem has a little bit of everything for you to truly experience Midwest Americana at its best.
Each day of this three-day festival is jammed packed with delicious food, entertainment and fun. get the full schedule here and a map here. With so much on the schedule, I wanted to narrow it down to a few things I think you won't want to miss...
Saturday, Sept. 3
The festival kicks off with a good ole smorgasbord breakfast from 7-10 a.m. at the United Methodist Church, 104 W. Pearl St. Then, from 10:30 a.m.- 3 p.m., the Christian Church, 6 N. California St., will serve a pork chop dinner with proceeds helping community children with church camp expenses. I felt talking food first would be the way to go, and at these church gatherings, you will get a sense for what Hoosier hospitality is all about.
One of the top attractions you won't want to miss also occurs on Saturday. The Old Fashion Days Parade, known as the largest parade in the county and a staple of any small-town festival, begins at 11 a.m. Get your candy-catching kiddies ready.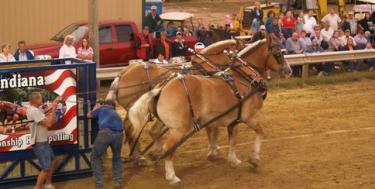 My other recommendations on Saturday include the Kiddie Tractor Pulls down Pearl Street, which begin at 1 p.m. and the Truck Pull at Machinery Field beginning at 3 p.m. You will want to check out the live music and food and craft vendors, whichever day you plan to go.
Sunday, Sept. 4
An old-fashioned festival would not be complete without a pie-eating contest, and that is exactly what you will find on Sunday of the festival with registration at 11 a.m. and the contest at 11:30 a.m.
You also won't want to miss the car show that begins at noon on Main Street and the Horse Pull at Machinery Field at 6:30 p.m. In between, you can check out some line dancing and of course the food and craft vendors.
Monday, Sept. 5
Monday may be the final day of the festival, but the activities certainly don't slow down any.
The day begins with a 10k, 5k run & walk or 13 or 30 mile bike ride beginning at 8 a.m. This event is understandably popular as routes provide participants with a constant, gorgeous country view.
Registration begins at 6:30 a.m. or online here. Entry fee is $22 for participants that pre-register by Sept. 1, or $25 thereafter. Bike ride registration can be filled out online, here. All run, walk and ride participants will receive a food voucher that can be used for a free smorgasbord breakfast or a meal at the various food vendors.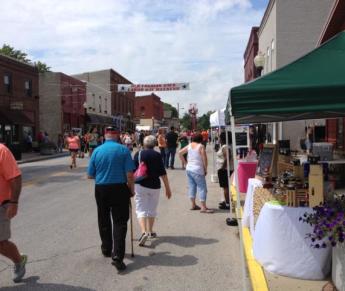 Other top activities on Monday include the Pet Parade at 10 a.m. and Pizza-eating Contest sponsored by local favorite Perillo's Pizzeria at 3 p.m., though registration is at noon. I'm pretty sure anyone who has been to Perillo's feels like they attempted an eating contest because it is so delicious. This should be interesting.
But in my mind the Bed Races down Pearl Street is the must-see event of the weekend! Registration is at noon and the event begins at 1:30 p.m. This is fascinating and hysterical - good old-fashioned festivities.
This is just a mere glimpse of what you'll find throughout this three-day festival. They have also added kids entertainment, including pony rides and a bounce house, that will be open all weekend following the parade. Live music and a free open mic stage also will pump out entertainment all weekend long.
Make this the year you bring the whole family to North Salem's Old Fashion Days.