The Visit Hendricks County staff scoured Hendricks County looking for
one-of-a-kind finds
you can only get here. In many cases, that means these gifts are handmade by local artists or simply are items you will only find in Hendricks County. Even if the particular item or experience we feature may not be exactly what you're looking for, we suggest visiting each of these small businesses as they just might have that gift idea you thought you would never find.
Hot Blown Glass Ornaments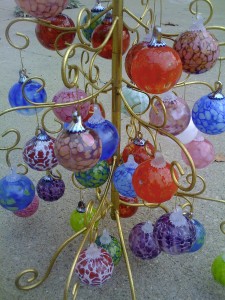 We found some amazing glass ornaments at Artistic Designs Gallery, 124 E. Northfield Drive, Suite K, Brownsburg. The ornaments made by local artist Lisa Pelo are just one of a number of amazing glass pieces she makes at her shop in Clayton. These ornaments, which come in various colors, shapes and sizes, and all of Lisa's glass creations are truly something to behold and are definitely one-of-a-kind finds. The ornaments range in price from $15-$22. In addition to Artistic Designs Gallery, Lisa's work can be found at several retail locations within the county including
Bread Basket Cafe & Bakery
in Danville and 
Finer Things
 and
Frazee Gardens
in Brownsburg.
Hand-painted Gourds
Gourds are probably one of the last items you expected to see on our holiday wish list, but these hand-painted gourds by Indiana artisan Ann Lankford aren't your ordinary gourds. What can only be described as true works of art, Ann can turn a gourd into just about anything.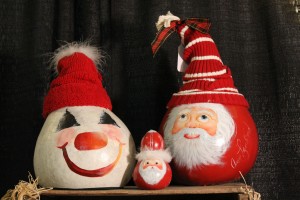 She has made them into penguins, santa and many other creations. Because they are gourds they obviously come in various sizes and shapes and range in price from $10-$60. They can be found at Homestead Primitives on the Morgan County Courthouse Square, 28 N. Main St., Martinsville.
Granite Trivets
Few items throughout our wish list matched the versatility of the Natural Valley Recycled Granite blocks that are handmade locally in Hendricks County and found at
Frazee Gardens
, 3480 N. Ind. 267, Brownsburg. A perfect gift for anyone's home, the uses for these beautiful creations are only limited to one's imagination. These beautiful pieces of granite that have been sanded and polished to perfection make great butter or cheese trays after being chilled in the fridge, party serving trays for cold or warm food, a candle display or even a cutting board. Frazee sells these granite trivets at their store in a variety of sizes and colors with prices ranging from $17.99 to $29.99, or they can have them ordered to meet your specifications.
Wreaths
You will have to wait until the day after Thanksgiving, but
Evans Whispering Pines Christmas Tree Farm
, 1538 N. County Road 400 West in rural Danville sells some of the best handmade fresh wreaths in the county.

Offered in various sizes, shapes and price points, you can choose from a wide variety of freshly made decorations in addition to the wreaths, including garland. The smell alone will fill you with the Christmas spirit.
Metropolis Gift Cards
If you just aren't into one-of-a-kind finds, Hendricks County does have a wonderful outdoor mall with many of the stores you know and love.
Metropolis Mall
, 2499 Futura Park Way, Plainfield features shopping options such as Journeys, American Eagle, Aeropostale, Barnes & Noble, Coldwater Creek, Dick's Sporting Goods; I think you get the idea. They also have an 18-cinema movie theater and wonderful restaurants like Claddagh Irish Pub, Stone Creek Dining Company and Hot Box Pizza. Visit the guest relations booth at 2499 Futura Park Way for more information and to purchase gift certificates that are good for any store in the mall.
Honey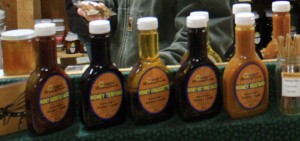 You may never buy honey from a grocery store again after visiting this one-of-a-kind find in Morgan County.
Hunter's Honey Farm
, 6501 W. Honey Lane, Martinsville is a family-owned and operated honey farm that has been in existence for more than 100 years. They offer 12 different honeys and 13 varieties of spun honey ranging in price from $2.25 for a travel size to $40 for a 60-pound bucket (yes, we were surprised, too) and everything in between. They also have honey snacks, five sauces, two relishes and skin-care products.
Craft Beer
Hendricks County is home to some amazing local brewers including
Black Swan Brewpub
, 2067 E. Hadley Road, Plainfield and
Three Pints Brewpub
, 5020 Cambridge Way, Plainfield and
Cutters Brewing Company
, 9973 U.S. 36, Avon.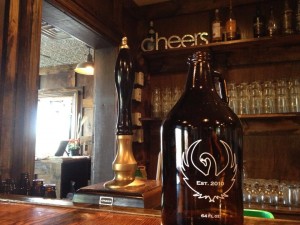 All three locations have craft beer available during regular hours as Three Pints and Black Swan also double as restaurants. Cutters, however, is solely a brewery. Gift certificates and growlers are available at some, or in some cases, all three locations.
Fruit Cake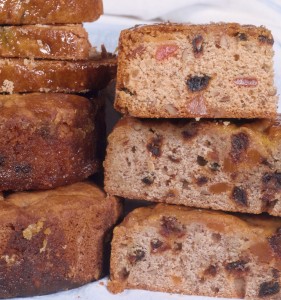 It just isn't the holidays without fruit cake, right? Well, we found some homemade fruit cake at Court House Grounds, 65 S. Washington St., on the Square in Danville that will leave you wanting more. Inside holiday-inspired metal tins, the fruit cakes cost $20 for a pound and will be available beginning the day after Thanksgiving.