The Visit Hendricks County staff searched Hendricks County for one-of-a-kind finds you can only get here. In many cases, that means these gifts are handmade by local artists or simply are items you will only find in Hendricks County. This installment focuses on teens, so we focused on fun, rigorous entertainment including some experiences. But even if the particular item or experience we feature may not be exactly what you're looking for, we suggest visiting each of these small businesses as they just might have that gift idea you thought you would never find.
Bicycles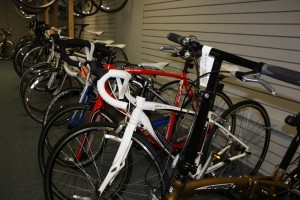 If you are looking for a bicycle that fits both the needs and body of your teen, you should visit
Gear Up Cyclery
, 124 W. Main St., Plainfield. These aren't the types of bicycles you will find in your big box retail stores. Yes, the prices might be a little higher, but the quality of the bikes and the service and expertise you will receive is unmatched. We were simply amazed by the knowledge of the team there. They sell top-end bicycle brands such as Specialized, Electra and Terra Trikes. They have rock hopper bicycles for rigorous use, street models built for speed, cruisers for comfort and so much more. Customers are measured and sized and the bikes are adjusted on site for that perfect fit. They also encourage test riding their bicycles out on the trail behind the store. Their selections range in price from $450 to $1,500, but we felt the quality and custom fitting makes the investment worth it.
Necklaces
Any teen would love what we found in Pittsboro in a nondescript former home along U.S. 136.
The Fossil Rock Or Gemstone Store
also known as FROGS, 108 W. Main St., Pittsboro, had some fun gift ideas including a rope necklace with either a round or square wire frame that can hold and display a rock or gemstone.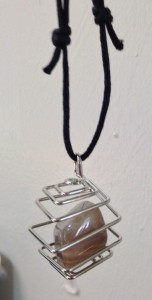 Hard to describe in words, you will just have to trust that this is a gift any teen would enjoy. The design of the necklace makes it easy to swap rocks within the necklace based on the owner's clothing or mood. An affordable yet one-of-a-kind find, the necklace costs $5.95. Various sizes and colors of rocks can be purchased at the store for as little as 25 cents to as much as $2.50 per rock.
Rock Science Kits
Another affordable gift we found for teens at
FROGS
, 108 W. Main St., Pittsboro,  included these rock sets. The sets come in six different options and are geared for a non-experienced rock person who wants to learn more about specific rocks.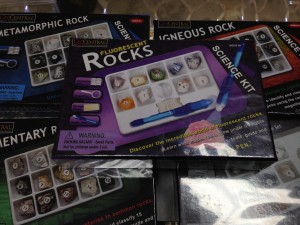 The sets range in price from $12.95 up to $20. We had a tough time focusing on just a couple of gift ideas at this shop as they also have rocks made into animal shapes, rock jewelry, Christmas ornaments and so much more. They offer classes and even have a dinosaur relic on display that is 65 million years old that is a must see when you visit the store!
Diecast Race Cars
If your teen is into racing, you must make a visit to Gearheads Auto Racing Store, 10249 E. U.S. 136, Brownsburg a priority. This is the place for the racing fanatic, and we found the selection of diecast race cars particularly incredible.
Stacked from floor to ceiling in this former house turned business near the entrance of Lucas Oil Raceway, Gearheads has more than 2,500 diecast cars ranging in price from $1 to $600. The best part about this store: It literally is a one-stop shop when it comes to diecast cars as it is the only location in the state that offers diecast selections of IZOD IndyCar, NASCAR, Formula One, drags, sprints, midgets, sports racing, MotoGP, muscle cars, hot rods, streetcars and trucks.
Splash Island Experience
Known more for its outdoor waterpark, Splash Island, 651 Vestal Rd., Plainfield, also has an
indoor water experience
with an adjoining recreation center that would be a perfect gift for the teen on your list. What better way to get away from the cold then to enjoy an indoor water experience with a two-story waterslide, water basketball, lap lanes for swimming, a gentle lazy river and pulsating vortex. For the younger ones, they even have a zero-depth entry pool and water playground. When your teen gets their fill of swimming, there is plenty of other activities to keep them occupied for an entire day in the recreation center including numerous basketball courts, a running track, exercise equipment, TV rooms and so much more. A day pass to the Plainfield Recreation Center, which includes the indoor waterpark, is $9 for adults 18 and older, $7.75 for youth ages 5-17, $6 for ages 4 and under and $3.50 for a Just Watchin' Pass.
Sky Zone Experience
What better gift for a teen than a trampoline experience complete with basketball rims to dunk on, dodgeball pits to compete in and many other areas for indoor, 3D play experience.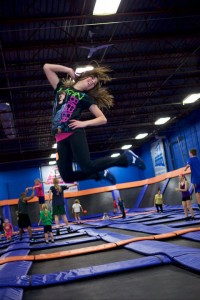 Sky Zone Indoor Trampoline Park
, 851 S. Columbia Rd., Plainfield, offers various prices based off the amount of time you pay to jump. Prices start at $9 for 30 minutes to $20 for 120 minutes. The staff suggests purchasing tickets in advance if you want a guaranteed jump time.
Sky Zone
caps its capacity to keep the jumping safe and fun for all. Jumpers are also given protective high-top shoes upon entering to make it safer.
Boot Purses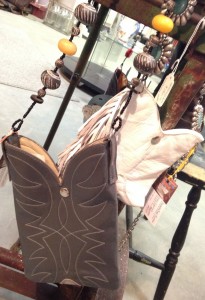 One of the most unique finds we discovered at
Finer Things
, 1032 E. Main St., Brownsburg, were the SaddleBag Purses created by Indianapolis resident Cathy Claycomb. These purses definitely had a western feel as they were made from recycled leather cowboy boots. Cathy did add flair to each creation using vintage or designer belts or semi-precious stones for the straps. The purses come in various colors, styles, sizes and had shoulder and cross-body options. Cost of the purses ranged from $95-$184 at Finer Things, and if you have your own cowboy boots that you want made into a purse, take them into the store and Cathy can custom make a purse for you.
Boot Cuffs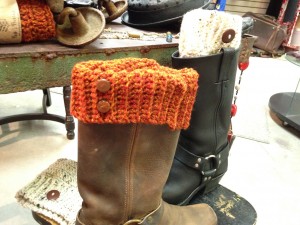 These local, handmade boot accessories sold at
Finer Things
, 1032 E. Main St., Brownsburg, in Brownsburg add style, color and warmth to any boot. Made from cotton and embellished with vintage buttons, these cuffs can be worn in a couple of different ways. Because these cuffs are handmade by a Hendricks County woman, you can custom order your cuffs to any color imaginable. They cost $19.50 at Finer Things.