The Visit Hendricks County staff has scoured Hendricks County looking for
one-of-a-kind finds
you can only get here. In many cases, that means these gifts are handmade by local artists or simply are items you will only find in Hendricks County. This installment focuses on the kids and has a little bit of everything. But even if the particular item we feature may not be exactly what you're looking for, we suggest visiting each of these small businesses as they just might have that gift idea you thought you would never find.
Promise Monsters
As we perused
Wilbur's Lincolnwood Toy Store
, 285 W. Main St., Brownsburg, we found it tough to focus on just one item. But we were floored by a wonderfully simple concept that would grab the attention of any child: These cute creatures called Promise Monsters, which line one wall of the store. Made locally in Hendricks County,
Promise Monsters
are stuffed toys that include a secret mission of kindness that the child can do to earn points for accessories. For $29.99, you can purchase one of the monsters: Frank, Spike, Albert, Bride of Albert, Blobby Katy or Squiggly; and also receive a random act of kindness mission. You can also purchase more missions at Wilbur's Lincolnwood Toy Store for $5 each or a smaller monster known as a Smarshmallow for $9.99. We would encourage all parents to check out Wilbur's store as they have a vast array of specially chosen toys that all have one thing in common, according to the owners: "Play value."
Baby Dolls
What little girl doesn't love a good doll? Well, we found some that were so lifelike at
Main Street Dolls 'n More
, 49 S. Jefferson St., Brownsburg, that we had to add them to our wish list. This store has an amazing selection of dolls at virtually every price point, but the ones that caught our eye were the Lee Middleton Newborn Nursery selection because of their lifelike appearance and feel. Pick one up and you will swear you are holding a newborn baby.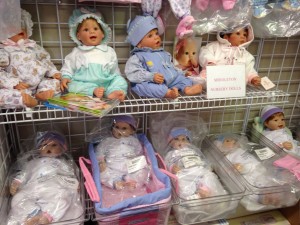 The store owners tell us parents love them almost as much as their children because any 0-3-month clothing fits these dolls making their accessories cheap. The dolls come with adoption papers and a Bible and cost $88, though Main Street Dolls 'n More will have them and all of their baby dolls at 20 percent off through the holiday season. The Lee Middleton Newborn Nursery dolls will also come with a gift with purchase.
Handmade Tutus
We couldn't help but stop and stare at these cute tutu outfits we found at a relatively new store in Brownsburg called
Gizmos Galleria
, 1630 E. Northfield Dr. Ste. 1100 & 1200. Set up like an antique mall with booths for each of the store's consignors, we found these tutus that any young girl would love.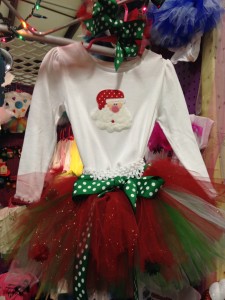 Created by a local woman who named her booth Magical Creations, these three-piece outfits from newborn to 4T come in a variety of themes and colors and include a shirt, tutu and matching hair piece. Prices ranged from $9.99 to $39.99. We also noticed some cute hairbands also made by Magical Creations from $6-$10. You can check out Magical Creations and an amazing selection of crafts, antiques and more at Gizmos Galleria, 1630 Northfield Drive, Suite 1200 in Brownsburg.
Wooden Toys
Located in the Red Horse Livery, 4951 Milton St., Coatesville, a store featuring all kinds of handcrafted items in a former Masonic Lodge building, we uncovered some wooden toys with varying price points that would be perfect for any child.
The toys, which are handcrafted by a family friend of the store owners, included small, simple cars that sell for $3 each or two for $5. However, we were intrigued by a bigger semi hauler carrying cars that fit in an interlocking puzzle. The colorful and creative toy sells for $40 at Red Horse. They even had one-of-a-kind wooden puzzles made in the shapes of a horse and stars that were amazing for $20.
Woven Children's Purses
Every young girl likes to be like mom, so why not buy them an inexpensive, yet functional purse this holiday season. We found these cute, woven creations at Red Horse Livery, 4951 Milton St., Coatesville,. The local artist even has some hats that match the small purses.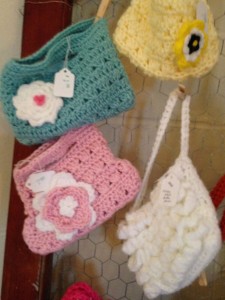 The purses come in a variety of colors and range in price from $7-$30. The Red Horse Livery was filled with so many gift ideas for any member of the family that we suggest making the trip out there to check out their selection which includes furniture, crafts and many other Indiana artisan products you can't find anywhere else.
Cookies & Canvas Experience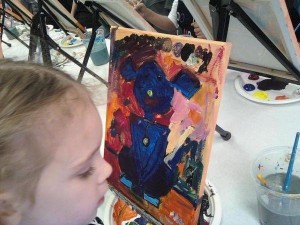 While we were in looking for gift ideas at
Frazee Gardens
,3480 N. Ind. 267, Brownsburg, we stumbled upon an experience that any youngster would love. Frazee regularly holds Cookies & Canvas classes specifically geared for children. For $20, a child will get all of the supplies they need and a blank canvas and will be guided through a painting exercise while enjoying some cookies. Frazee also has many adult classes as well that could make great gifts. For more information on their classes, stop by the store.
Woven Ornaments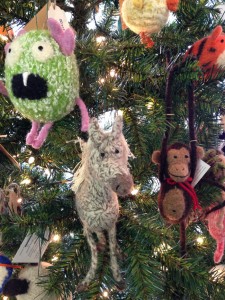 Indiana artisan Jennifer Berger makes these unique creations that caught our eye inside
Gallery on the Square
, 51 S. Washington St., Danville. A form of fiber art, kids would absolutely love these wool-felted animals, monsters, shapes, and we even saw a mermaid. Intended to be tree ornaments, they could be used in a myriad of ways including as gift toppers and range in price from $8 for a heart-shaped ornament to as much as $24 for a larger horse.