Landscaping enthusiasts rejoiced this past weekend when both Brownsburg and Plainfield, Indiana, presented their annual garden tours.
Elaine Whitesides
and I were both interested in going, so we split the deal: she covered Brownsburg, while I toured Plainfield. We were both impressed by the truly beautiful gardens we saw around
Hendricks County
.
Brownsburg Garden Tour
By Elaine Whitesides
If you think gardening is just digging a hole and plopping in a plant, you just have to go on a garden tour to find out that just ain't true! Every garden has a story and every gardener is happy to tell it. The one thing that really struck me this year on the Brownsburg Garden Tour was that you could drive by just about every one of these residences and never know what is behind that garden gate or down that garden path.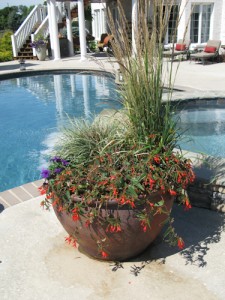 My goal while visiting each garden, besides hearing the stories was to learn something new to bring to my own backyard. I just love achieving my goals. My favorite parts of the tour:
1. Use pots to your advantage:
Angela Falcone's gardens surround a pool and family area. She planned it to be beautiful, yet low maintenance so she could spend time with her family instead of garden maintenance. Pots are her secret – they're filled with color and after filling them, she keeps them watered, and they are good for the summer. What a great idea!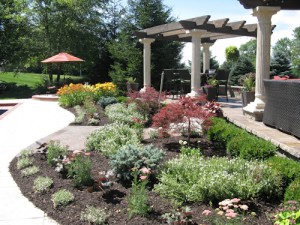 2. Make supporting elements decorative:
The Krampen yard also surrounds a pool with a fire pit and pond as well as two pergolas with seating surrounded by flower beds. The Asiatic lilies were amazing. They were well over 6-feet tall. Linda Krampen supports the stems with twirly metal stakes – another great idea.
3. Lemon lots can make great lemonade:
The Geddes' garden is a woodland wonderland created because their backyard was a wild ravine. As Les says, he took a lemon lot and made lemonade. Full of trees and a natural drainage stream, he works with what Mother Nature brings to his yard, yet keeping the wild at bay. Trilliums volunteer in the spring so he flags their locations to see if they return the next year.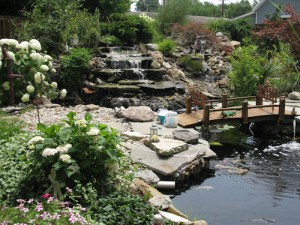 4. Weave meaning into your space:
The three Hott sisters transformed the backyard of their childhood home to honor their mother. They knew an outdoor room created within the branches of a weeping willow was perfect. They knew it was a perfect location for the tree because it would flood and they boated in it as children. They added a pond filled with koi and a waterfall, a pavilion-style shelter and created an oasis.
5. Be careful what you wish for:
Missy Turpin used to yearn to bring sun-loving plants home, but with her tree-shaded yard, it just wasn't going to happen. That is, until straight line winds ripped away all the trees in a 2007 storm. Suddenly the sun was shining on their backyard. Missy and Richard felt blessed no structural damage was done in the storm and they were excited to be able to build sun-loving gardens. Now the Turpins have both worlds – a shady back porch and a sunny patch filled with color and chirping birds. Everyone is happy!
Plainfield Garden Tour
By Amanda Miller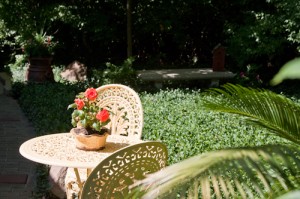 Plainfield's fourth annual garden tour
, sponsored by the Friends of the Plainfield-Guilford Township Library, did not disappoint. The tour featured seven beautiful gardens in Plainfield, with an eighth "bonus" garden in Morgan County. My favorite aspects of the tour:
1. Variety kept me interested
: While all of this year's homeowners share a love of gardening, each has his or her own style — and that kept my interest piqued from one garden to the next. From the hundreds of varieties of daylilies at garden #1 (
read more in this earlier preview
) to the shaded "garden rooms" at garden #3 and water features at garden #6, each was unique.
2. Out-of-the-ordinary plants and flowers:
I'm drawn to striking, colorful flowers. I loved that I got to see some species I'd never seen before. Perennials, annuals, you name it. Every color of the rainbow was represented.
3. A labor of love:
It takes many hours of hard work to cultivate a garden into something worth opening to the public. Some of these homeowners can measure their progress in decades, and I truly commend them for their efforts. It has paid off!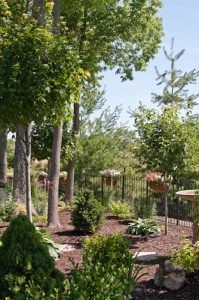 4. Blue, clear skies:
Rainy days haven't kept visitors away in previous years, but this weekend's warm, sunny weather certainly helped motivate more people to get out and admire these eight gardens. I hit the streets early, to beat the heat of the day, but cold bottles of water were offered to me with a friendly smile at every stop.
This was my first year attending the Plainfield Garden Tour, and I'll be sure to mark my calendar for next year, too.