If you are a family who loves affordable outdoor recreation, we have some ideas for you here in Hendricks County.
What follows is an insider's guide of recommendations from someone who has lived and worked here for more than 10 years. You may want to check out all of these attractions or use it as a foundation to create your own trip based on your interests and length of stay whether that is for a day, weekend or even longer.
Natural Valley Ranch
Your adventure begins in Brownsburg at this 50-acre working horse farm. Providing picturesque riding trails through wooded areas and along White Lick Creek, Natural Valley Ranch is an outdoor recreation lover's dream. It even offers perfect accommodations for large families with both a cottage and rustic cabin on site for overnight stays.
The property has a lake, farm animal petting area and hosts guided horseback rides with the equivalent of car seats that can be attached to a horse so a little one can ride behind mom or dad.
Williams Park
After spending time on the ranch, grab your bathing suits and take the family to Williams Park in Brownsburg to check their interactive splash pad called Watermill. With more than 2,500-square-feet of water play area, this zero-depth splash pad provides free outdoor fun for the entire family with misting and flowing jets and its signature feature a Superwave that churns out 32 gallons of water per minute.
But that isn't the only feature you can enjoy at Williams Park. The kids will love Blast-Off Playground, a wooden children's play area that they literally can get lost in.
The back of the park also features a wooded area with numerous trails including Maple Ridge. Plenty of gazebos, shelters and grassy areas provide perfect locales if you want to bring food for a picnic.
McCloud Nature Park
Finally, grab a fishing pole, hiking boots, bicycles or all of the above and head off the beaten path to McCloud Nature Park up in rural North Salem. The park boasts 232 acres of mostly untouched nature. The views are breathtaking; the sounds are soothing; and the experience is priceless.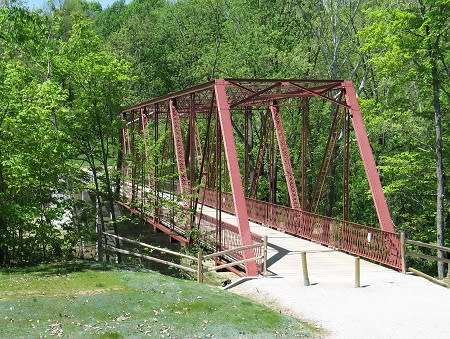 A Nature Center boasts interactive exhibits about native wildlife and a bird-watching area. Various programs led by park naturalists are hosted at McCloud virtually every Saturday during the summer. Check out our Events Calendar for more information. Make sure to also check out the fully restored, 100-year-old iron truss bridge that spans Big Walnut Creek.
While you're in North Salem, I highly recommend making a pit stop at Perillo's Pizzeria, a true hidden gem straight out of Sicily. This small, family-owned eatery has great outdoor seating, but make sure to bring cash because checks and credit cards aren't excepted here.
Other Options
That is just a mere sampling of the outdoor recreational opportunities each summer in Hendricks County. Other highlights include the Vandalia Trail, Avon Town Hall Park, Washington Township Park and Splash Island Family Waterpark. For more information on these locations or more recreation ideas, click here.
Planning Your Trip
Accommodations - If a traditional hotel is more to your liking, check out all of our hotels here.
Restaurants - You can see a full listing of all of our restaurants here.
Events - I highly recommend checking out our extensive Events Calendar once you decide what dates you are planning to visit as our summer is filled with festivals, live music and much more.
Extend Your Stay - Just outside of Hendricks County, I highly recommend experiencing the Go Ape Zipline & Treetop Adventure at Eagle Creek Park.