I love a good antique store as much as the next girl. There's a lot of satisfaction to be found when you stumble upon a home décor piece or even a piece of clothing that no one else has. So I was excited to visit Cyndi Miller at her new Outta the Shed storefront in downtown Plainfield on the corner of Main and Simmons streets just a couple weeks ago.
What to Expect
Outta the Shed has a wide range of offerings, including home décor, a clothing boutique, primitives (1800s style items), farmhouse, eclectic, shabby cottage and much more. The shop leads you lazily from one section to the next, through themed booths and stacked nooks where you just might find that perfect item. Items range in cost from $5 to $1,000.
The shop even offers custom builds for people, such as kitchen islands, cabinetry, farm tables and other furniture, all designed and created by local craftsmen. Miller and her husband build items as well.
Decorating Ideas
Miller's childhood and background in decorating allows her to help customers create the perfect piece. Miller has loved repurposing items ever since she was a child. Her own dad even had to lock her out of the garage because she was constantly stealing the things he was collecting so that she could revamp and paint them.
As she grew older, she began helping her friends decorate their houses, often with items they already had on hand, as well as decorating for weddings. So, she loves giving customers pointers and advice on decorating their homes.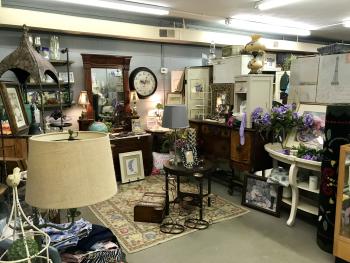 New Location in Plainfield
Three years ago, Outta the Shed had a storefront on Danville's Historic Square, but it closed when Miller and her husband revamped a 30-foot long travel trailer into a traveling store. Over time, however, Miller felt the need to open up another storefront and loved the location on Main Street in Plainfield.
Miller finds her items at estate sales, garage sales and other thrift stores and antique malls. She's constantly on the lookout for the perfect, quirky items to bring into her store.
What We Found 
My kids and I meandered through her store, and they each found tiny treasures they loved -- a Christmas ornament for my son and some little gold hoop earrings for my daughter. I love that they found joy in used and older items. Each little section we stepped through seemed to have a different theme and vibe, and Miller switches out items all the time.
More Information
Outta the Shed has a Facebook page, Instagram, and Twitter. Miller said to stay tuned for fall and Christmas season announcements. On the last Saturday of each month, there is also a Monthly Bargain Shed where Miller takes items and sells them at discounted prices in the shed next to her shop.
If you're looking for that one perfect home décor item, that one accessory no one has or just want a little taste of nostalgia, this is the place to go! Happy treasure hunting!
Outta the Shed is located at 113 Simmons St. in Plainfield, and is open Monday through Friday from 11 a.m. to 6 p.m., Saturdays from 11 a.m. to 4 p.m. and is closed on Sundays.