Ready for another stop on the
Hendricks County
holiday
Cookie Recipe Trail
? This one is at Carla's Creations & Gifts on the south side of the Hendricks County Courthouse Square in Danville, Indiana. If you are looking for that holiday cookie that will be one of the favorites for years to come, this is where you'll find the recipe for it – along with a really unique idea for gifts.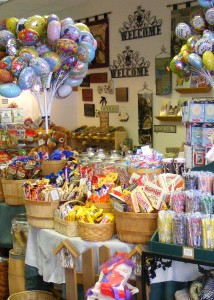 I love going into
Carla's Creations & Gifts
at any time of the year because she always has something new and interesting – and tasty! My last visit yielded a Three Musketeers laced with coconut for my husband! Traditionally, Carla makes up gift baskets that are really special. These are perfect gifts for that hard-to-buy-for friend or aunt – or mom. The baskets are also great for client gifts or when you have a group of people you want to surprise with a pleasant change of pace from the usual scarf or mug. Each basket is special. What makes them so unique?
They are customized to your budget. You can spend whatever makes you comfortable. She has gift items as well as a flood of candies and treats to select for your basket gift.
They are designed based on both the sender and the lucky person receiving the basket. My husband loved that coconut infused candy bar so I'd include a couple of those for sure. Everybody has certain tastes and favorites and because Carla's gift baskets are customized, you can tailor the contents specifically.
The Brown Bag special includes free gift wrapping and packaging. The only cost is what is inside. These are perfect when you need to pick up a gift and want all the goodies to be IN the gift instead of AROUND the gift – and they still look great – Carla makes sure of that! This holiday season Carla is offering something new. For all your friends and family who have left Indiana and miss it, you can send them a little "piece of home" for the holidays.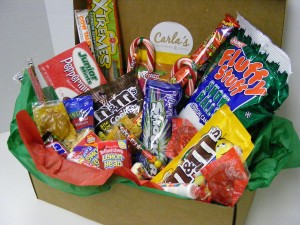 You pick out the items that are sure to touch their hearts and tickle their taste buds, and Carla converts the gift basket into a gift box and ships it off in time for them to enjoy for the holidays. (Orders need to be completed by Dec. 12 – so don't dilly or dally too long!
In case you don't know how the
Cookie Recipe Trail
works, here's what happens: You get an opportunity to pick up 12 cookie recipes by visiting each of the participating locations. You can get the entire list of locations by clicking
here
or by visiting Carla's Creations & Gifts.
You use your smartphone to scan a QR code at each location or get a website to download the recipe online on your home computer. Following the Cookie Recipe Trail will yield some great cookie recipes, some fun times and memorable holiday gifts! Once you get the list of participating locations, you can make up your own route and, who knows, maybe a new tradition as well! Plan a time to visit Carla's Creations & Gifts. Pick up the recipe and pick out what you want to include in a gift basket or box. Carla will make it special and beautiful – you can count on that! Carla's Creations & Gifts59 West Marion StreetDanville, INPhone: 317-745-4200Hours:Mon. - Thurs. 11 a.m. - 6 p.m.Fri. 11 a.m. - 7 p.m.Sat. 10 a.m. - 5 p.m.