Just down the road from the Indianapolis Motor Speedway and Lucas Oil Raceway, Pit Stop BBQ & Grill is the perfect restaurant for motorsport fans or for those who just love great barbecue.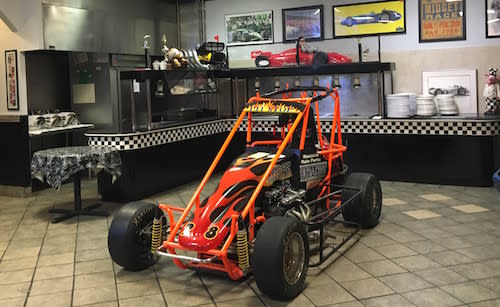 Pit Stop BBQ & Grill opened in 2009 at 932 E. Main St. in Brownsburg. The restaurant's story begins with Harold Cottongim, who started serving authentic, southern-style barbecue on Indianapolis' east side in 1961.
Cottongim eventually made his way over to the west side when he, with the help of his son, Eric, became the caterer for Indianapolis Raceway Park, now Lucas Oil Raceway. After catering at the raceway for more than 25 years, the Cottongims decided to open the Brownsburg restaurant, which has become a real success.

My husband, six-month-old daughter, and I stopped in recently for dinner and really enjoyed our experience. The walls are covered in an abundance of racing-themed pictures and decorations, and there is even a fun Midget racing car in the buffet area.
There are two main dining areas and both had a good number of diners occupying them, but we did not have to wait to be seated.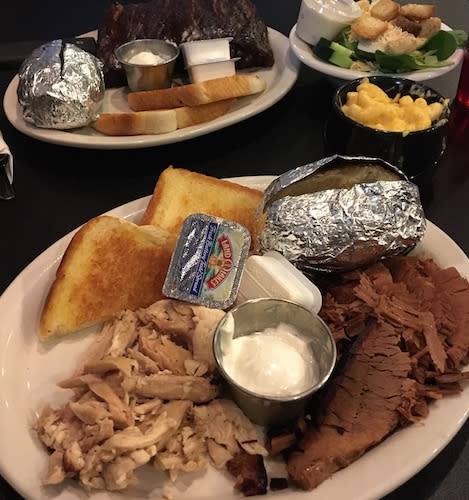 To get the full experience, I ordered the dinner platter with the pulled chicken and beef brisket, macaroni and cheese, baked potato, and Texas toast. My husband got the St. Louis-style spare ribs, a baked potato, Texas toast, and a side salad. For smaller appetites, there is also a selection of salads and sandwiches. I found all of the items on the menu to be reasonably priced.
Our dinners arrived very quickly and we both really enjoyed our meals. The meat was incredibly tender. All of Pit Stop's barbecue is prepared southern style, which means it is smoked with hickory wood for an extended period. The sides, while my favorite was the macaroni and cheese, were all great. There were two choices of sauce at the table, the original barbecue and the sweet barbecue. We preferred the sweet, but the original definitely had an interesting kick to it.
We would definitely go back again, maybe next time to try the buffet. 
Pit Stop BBQ & Grill offers a Sunday Brunch Buffet 10 a.m.-2 p.m., a Wednesday Night Family Buffet, and a Saturday Night Super Buffet. The restaurant is also an excellent choice for catering, whether the party is at your home or business, or in the restaurant's party room.

So whether you are in need of a great caterer for your next party or you're just craving some incredible barbecue, Pit Stop BBQ & Grill is an excellent choice. Make sure to make a "pit stop" there the next time you visit Hendricks County.