Check back here Monday to be a part of our TourHendricksCounty.com Pizza Playoffs selection committee.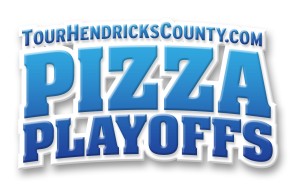 Voting to seed our 16 competitors will occur on our All Access Hendricks County blog from March 5-7. Here's some additional information about our upcoming contest:
March has arrived, which for many Americans means one thing: It's time to dust off those brackets.
With that in mind, the Hendricks County Convention and Visitors Bureau will showcase an exciting bracket contest of its own geared toward local pizza connoisseurs. The TourHendricksCounty.com Pizza Playoffs will crown one champion from 16 locally owned, non-chain pizza-making contenders through a month-long online voting contest.
"Throughout the last few years, we've been developing promotions that encourage visitors and residents to support our locally owned businesses," said Jaime Bohler Smith, associate director of the Hendricks County Convention and Visitors Bureau. "The Pizza Playoffs is another way to drive traffic into these businesses and spread the tourism dollars across the county.
"When we developed our restaurant listings for the Super Bowl materials, we realized we had a number of locally owned pizza places and of course, everyone has their favorite," she added.
Beginning Monday, March 5, the HCCVB is asking voters to help seed its 16 Hendricks County competitors by picking their top five on its tourism blog at www.TourHendricksCounty.com/blog. To promote the county's locally-owned independents, local chain favorites such as Monical's and Hot Box won't be eligible. Instead, the 16 contenders include:
Amo Pizza Shop — Amo
Buzz's Pizza — Plainfield
Dave's All American Pizza — Danville
Frank's Place — Danville
Lil Mo's Pizzeria — Clayton
Mediterranean Pizza — Brownsburg
PANS Pizza & Sweets — Brownsburg
Perillo's Pizzeria — North Salem
Piezanos Pizza — Plainfield
Pittsboro Pizza Shoppe — Pittsboro
Pittsboro Pizzeria — Pittsboro
Pizza Paradise — Danville
Randelli's Gourmet Pizza — Avon
Rock Star Pizza — Brownsburg & Plainfield
Sal's Famous Pizzeria — Brownsburg & Plainfield
So Italian! — Brownsburg
Once the seeding is set, voting will move to the HCCVB website at www.TourHendricksCounty.com.
The first round of the head-to-head, bracket-style competition begins March 8. Voting for the second round starts March 13, and the third round commences March 20. The final two pizza locations will be announced March 27 giving voters one final chance to support their favorite with four days of voting before the champion is crowned March 30.
In addition to bragging rights, the benefits for each pizza location increase as they advance in the tournament through additional marketing opportunities. Voters also will benefit as each pizza location will donate a free large pizza voucher each round they remain in the competition, meaning 30 large pizzas will be randomly awarded to voters during the contest.