I'm a salty snack guy, so checking out a new popcorn shop in Brownsburg couldn't have been a better treat for me. As soon as I walked inside the small PopAKernal shop, I could immediately smell that enticing popcorn scent wafting through the air even through the mask I was wearing for protection.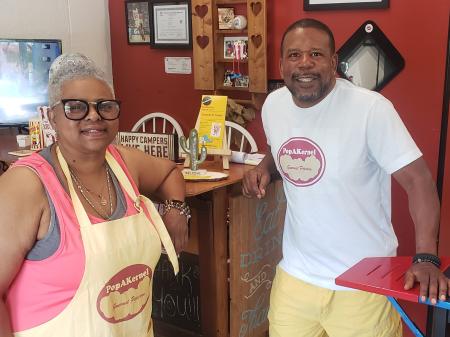 PopAKernal Popcorn is owned by a husband-wife team, Jerrod and Kim Cox. All their popcorn is popped fresh daily onsite. The small, walk-in shop is on the north side of the Busenbark Lawn Equipment building, 1630 S. Green St.
I generally knew where I was going but still struggled a bit to find their business tucked behind Busenbark off Ind. 267 near the Airport Road intersection on the south side of town. They did have a small popcorn yard sign out front that I actually didn't see until I was leaving and they do have plans to make their location more noticeable, which I will get into in a bit.
But I first want to get to their story and the star of the show, their delicious popcorn.
Why Popcorn?
Interestingly, the idea to get into the popcorn business came about more than 20 years ago, when Kim was with Jerrod's aunt visiting Chicago. The two were standing in line at Garrett Popcorn Shop, which in some circles has become as famous and tied to Chicago as the deep dish pizza. As they stood in that long line they looked at each other and said we need to do popcorn.
They began by trying to perfect popcorn in their own home oven starting with a cheese flavor and caramel flavor. Jerrod said it took the family more than five years to perfect the caramel flavor. Let that sink in for a moment – five years!
That truly is dedication. It is that kind of dedication, hard work and his wife's creative mind that has brought them success, Jerrod said.
They soon bought top-of-the-line popcorn equipment and began selling their popcorn at various places such as their own beauty shop and other businesses in Indianapolis, where they lived at the time.
Opening a Storefront
When they downsized and moved to Brownsburg last year, they no longer had space for all their equipment at home, so they began looking for a space for their equipment. After finding the space in the Busenbark building, they thought why not try to open a store there not really knowing all the legal requirements necessary to open.
They started that process back in September last year and finally got the approvals necessary to open in March just in time for another obstacle – the COVID-19 pandemic. Despite the unfortunate circumstances, they forged ahead opening for the first time March 28, and business has been better than expected over the first four months.
17 Flavors & Counting
They began with a dozen flavors and have added five since opening. Flavors include traditional favorites like cheese and caramel but also include various other options they have either created on their own through trial and error or that have been suggested by customers.
They currently have ranch, a cheesy jalapeno, pickle, kettle corn, white chocolate caramel and various mixes including a Chi-Town Mix (traditional cheese-caramel mix), Mac-N-Cheese (cheese-white cheddar mix), Ebony & Ivory (white cheddar-caramel mix), 317 (named after the Indianapolis area code and is a cheese-white cheddar-caramel mix) and one that has quickly become my favorite Sweet Cajun (cheese-caramel mix with cajun spice).
My Experience
I wanted to get a variety to try at home, so I picked the Sweet Cajun and 317. I love spicy foods so the Sweet Cajun Jerrod recommended for me could not have been better. I loved the salty-sweet combination the cheese and caramel provided and then the cajun kick made it perfection for my taste buds.
They truly have perfected their craft over the past 20 years. The popcorn was fresh, the flavors were bold, and I didn't find one unpopped kernel in my bags. And at $6 for a 7-ounce bag and $12 for a 15-ounce bag for most flavors, it is also affordable. The only price differences are their Kettle corn -- $5 for a smaller bag and $7 for a bigger bag -- and their chocolate varieties and caramel cashew are a little more at $7 and $13, respectively.
Jerrod said he doesn't envision them ever going above 20 flavors for a number of reasons including the manpower, size of their shop and that fact that they do everything in house from daily popping, to bagging, labeling and selling it.
They had big plans to offer samples to new customers but that is not currently allowed in this COVID world. In addition to their Brownsburg shop, they also sell their popcorn at two farmers markets in Hendricks County on Thursdays in Brownsburg and Saturdays in Danville.
As I mentioned before, they also planned to make finding their shop a bit easier. Jerrod purchased a bright yellow Hummer just prior to my visit. They had ordered magnetic signage to put on it and planned to park it out front.
So, head to Brownsburg soon and look for the bright yellow Hummer along Ind. 267. I promise your taste buds will thank you.