If you're idea of fun is making a splash, you'll want to grab your swimsuit and visit Hendricks County – poolside – for the "unofficial start of summer" this weekend. Beginning Saturday, May 24, two waterparks – Splash Island at the Plainfield Recreation Center and the Gill Family Aquatic Center in Danville's Ellis Park – will celebrate the beginning of their summer season. And, in Avon, you can cool off – for free – at the Washington Township Parks and Recreation Splash Pad.
Splash Island Family Waterpark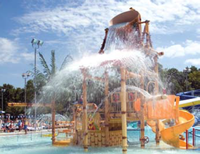 Featuring three waterslides, an interactive play area, lily pad crossing and two pulsating vortexes, Splash Island is located at 651 Vestal Road (off U.S. 40) and offers activities for all ages/skill levels. New this year, its leisure pool – that includes a zero-depth entry kiddie pool – will be heated for the little ones. If you'd rather kick back and float, the 900-foot long Leisure River is the perfect excuse for being lazy. For those who want a workout, there is a six-lane competition pool complete with an attached diving well that includes a pair of one-meter springboards. Spread out over more than 4 acres, Splash Island offers lots of deck space and grassy areas for sunbathing. A concession stand will provide you with a great mix of food, drinks and snacks, but you can also bring in your own cooler. For some other great insider tips about the park, click
here
. On Mondays through Saturdays, Splash Island is open from 10 a.m. until 6 p.m. and Sundays from noon to 6 p.m. Whether you're visiting from out-of-town or you live in Plainfield, the rates for a day of fun at Splash Island are pretty reasonable. For more information about the park, you can visit their
website
or call (317) 839-7665.
Gill Family Aquatic Center
Located inside Danville's Ellis Park at 600 E. Main St., the Gill Family Aquatic Center is another great place to go for affordable family fun (whether you're visiting or live in the community). Two large waterslides, a vortex, diving board, water playhouse and a 50-meter, three-lap pool are among the activities that await you.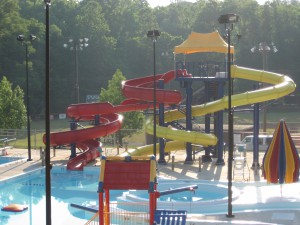 You'll also enjoy the food and drinks at the concession stand (…I've always liked their hot dogs) and there's something about the facility with the park nearby that makes it ideal for a family outing/picnic. For more information, visit their
website
and click on the link to the Gill Family Aquatic Center. Or, you can call them at (317) 745-3015. If you're looking to create an even bigger wave, both waterparks also offer packages and pricing for group rates/rentals.
Washington Township Splash Pad
If the summer heat is anything like the cold we had this winter, the Splash Pad in Avon will give you a chance to cool off quick.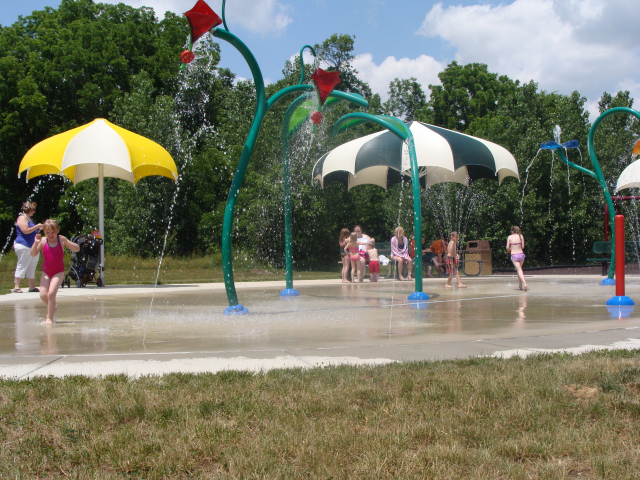 Unlike the other two spots listed above which are affordable, the Splash Pad is FREE and is located at 312 Whipple Lane. Swim suits are required and children 10 years old or younger must be accompanied by an adult 18 years or older. What's more, you can come over and enjoy a picnic outdoors at any of the tables located near the Splash Pad. The 'pad' is open daily from 11:30 a.m. until 6:30 p.m., weather permitting. For more information about the fun you'll have on the Splash Pad, visit their
website
. Grab a towel...summer is here!