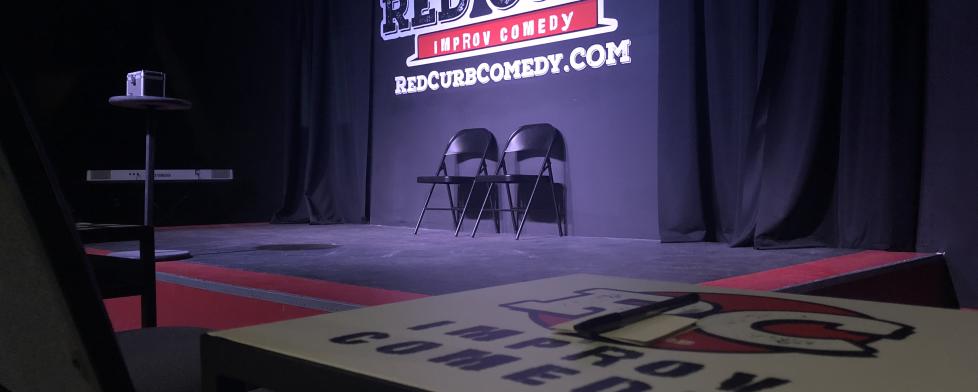 The Red Curb Improv Comedy Theatre is bringing even more fun and laughter to Hendricks County with a new monthly addition that will bring some of the best national comedy talent to Avon, Indiana.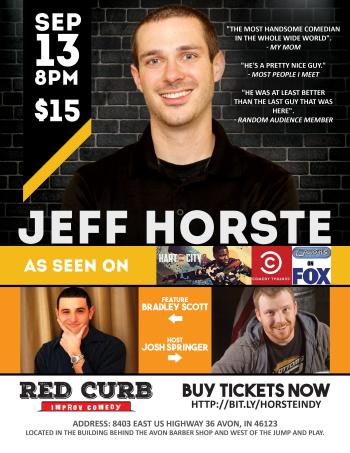 The theatre, which offers improv comedy shows every Saturday night, will now also showcase national headliner stand-up comedy once a month.
The first national stand-up comedy event will be next week, Sept. 13, at 8 p.m., and it will star Jeff Horste. The show will also feature comedian Brad Scott and will be hosted by local comedian Josh Springer. 
Future stand-up comedy shows at Red Curb will be one-night only events and will always star a national headliner. Tickets are $15 and can be purchased online here.
Red Curb Improv Comedy Theatre was started by owner Will Pfaffenberger, who is also a personality and producer of the The Smiley Morning Show on 99.5 WZPL. Pfaffenberger resides in Avon and has written, performed and produced comedy professionally since 2004. 
The Red Curb Improv Comedy Theatre just opened in February. The theatre offers weekly improv shows on Saturday nights, including a 7:30 p.m. PG-13 all ages show, and a R-rated, adults-only show recommended for ages 17 or older.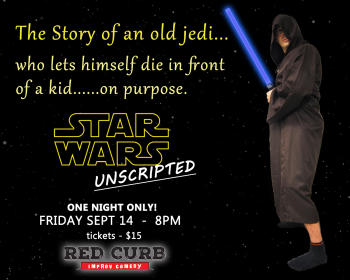 My fellow blogger, Jamie Hergott, recently wrote about her experience at one Red Curb Improv comedy night, and she and her friends laughed all night. The show included short-form improv, long-form improv, and her favorite, an improv musical. 
In addition to the weekly improv nights on Saturdays and the monthly stand-up shows, Red Curb will welcome a quest improv group, One Size Fits All, to present Star Wars Unscripted on Friday, Sept. 14 at 8 p.m. Star Wars Unscripted is a completely improvised Star Wars story and is an all ages show. Tickets are also $15 and can be purchased online. 
Red Curb owner Will Pfaffenberger told me the demand for more live comedy entertainment is growing in Hendricks County, so he plans to give the people what they want with more new shows. 
Red Curb Theatre is located at 8403 E. U.S. 36 in Avon in the same complex as Frye Electric and Jump and Play.