Is there anything better than a sweet, delicious donut for breakfast? Donuts are my favorite breakfast treat, so I was excited to hear that Hendricks County has a new bakery devoted solely to donuts. Red's Donuts is now open mornings on the historic Hendricks County Courthouse Square in Downtown Danville, serving up pastries and smiles.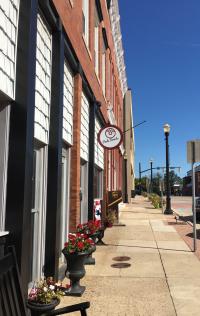 Open since Memorial Day Weekend, Red's Donuts is a family-owned and operated business. Donuts are baked in house, and served Tuesday through Sunday mornings alongside coffee from Arcane Coffee Company another Danville attraction. Red's offers a wide variety of donut options, from chocolate with sprinkles to apple fritters to the special Donut of the Month -- this month it's a lemon-filled donut, with white icing, powdered, or glazed topping. 
Despite all of these yummy options, owner Andy Redwine says the most popular donut choice continues to be the traditional glazed yeast donut. People are buying them faster than Red's can bake them! Andy told me his personal favorite donut is the pumpkin donut, which will be a seasonal offering. I can't wait to try it!
On my trip to Red's, I tried a glazed twist, and also grabbed a dozen to take home to my family. Our selections did not disappoint; they were sweet, creamy, and full of flavor. My little chocoholics appreciated all of the chocolate options available!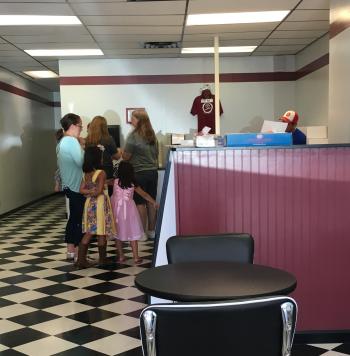 Red's also seems to be popular with the community; I visited on a Sunday morning, and there was a steady stream of customers coming through for the entirety of my visit. Some took their donuts to go, and others stayed to enjoy their treats in the store, but everyone I spoke to agreed that Red's is delicious!
Red's Donuts is located at 60 S. Jefferson St. in Downtown Danville. They are open Tuesday through Sunday from 5 to 11 a.m. They are closed on Mondays. You can find more information and donut flavors on their Facebook page. 
If you're looking for a sweet way to start your day, Red's Donuts are worth getting up for!