I have a bit of a barbecue addiction and recently visited a new barbecue restaurant in
Hendricks County
named
Dickey's Barbecue Pit.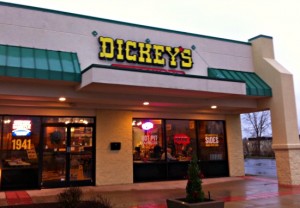 Dickey's Barbecue Pit is located in
Plainfield
just a couple of minutes from shopping and entertainment at
Metropolis Mall
. I'd never heard of Dickey's Barbecue Pit before, but I may be one of the only ones because it's a Texas-based restaurant that's been in business since 1941. Dickey's is serious about their barbecue, and they have locations all over the country. My lunch date and I headed over to Plainfield for some barbecue and plans for shopping. Upon walking in we were greeted by the friendly staff. Dickey's Barbecue Pit has a fun, casual decor with wagon wheel chandeliers, old photos on the walls and blue-and-white-checked tablecloths.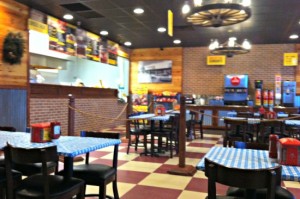 Dickey's offers counter service so you order and pay at the counter and pick up your food there as well. It took a few minutes for us to decide what to order. There's a wide menu selection with meat options like pulled pork, beef brisket, barbecue honey ham, sausage and pork ribs. There's also sandwiches, salads and bakers (stuffed baked potatoes). And I haven't even mentioned all of the sides, like baked potato casserole, barbecue beans, fried okra, green beans with bacon, fried onion tanglers and more. Can you see why we had a hard time deciding?
Let's get to the food!
We decided to go with a couple of combo plates, the Rib Plate with macaroni and cheese and barbecue beans.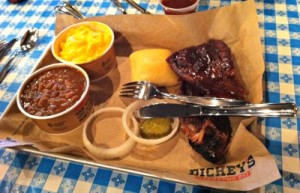 And, the 2 Meat Plate with pulled pork, smoked sausage, baked potato casserole and coleslaw.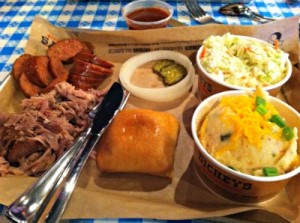 Our food was ready in a short time, which gave us a couple of minutes to fill our drinks at the counter (where you also pick up silverware, and sides of barbecue sauce). I really appreciated that the barbecue sauces are in warming containers, so the sauce always stays warm. Dickey's offers three options of barbecue sauce: Original, Sweet and Hot and Spicy.
And the food?
We both enjoyed our combo plates and the high quality of the barbecue meats (seasoned and slow-cooked, Texas-style). We especially enjoyed the pork ribs and smoked sausage. And our favorite sides? The tasty barbecue beans had a nice smoky kick. The coleslaw had just the right amount of sweetness and baked potato casserole was positively addictive (think mashed potatoes with cheese and chives mixed in-- yum!) Throughout our meal we noticed a steady stream of customers and many of them were picking up to-go orders. Dickey's offers online ordering and in addition to their regular menu, you can also buy several meats buy the pound or whole.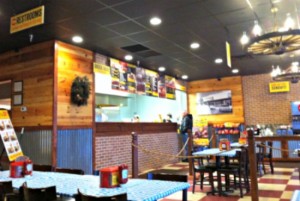 Dickey's Barbecue Pit
more than satisfied our barbecue cravings and is gaining a popular following in Plainfield with good food and friendly service.
What you need to know:
Dickey's Barbecue Pit, 2551 E. Main St., Suite 100, Plainfield,
To go: Call (317) 839-7100.
Hours: Open daily, 11 a.m. - 9 p.m.
What kinds of food and drink will you find? A wide selection of Texas-style barbecue with "pit smoked meats" including, pulled pork, beef brisket, pork ribs, sausage, sandwiches, salads, bakers (stuffed baked potatoes) and lots of sides. Dickey's has soft drinks, iced tea and lemonade and does not serve alcohol.
Favorites: We enjoyed the pork ribs, sausage, barbecue baked beans, baked potato casserole and coleslaw.
Family friendly? Yes. Dickey's offers free ice cream (all the time), and kids eat free on Sunday.