My husband and I tend to get in a rut when it comes to what's for dinner. I'll admit that I'm not typically an adventurous foodie, but I do love seeking out new types of cuisine when I'm traveling.
I decided it was time to get out of our food comfort zone right in our own neighborhood, so we set out for a romantic dinner at the new Thai District restaurant in Brownsburg.
The Owners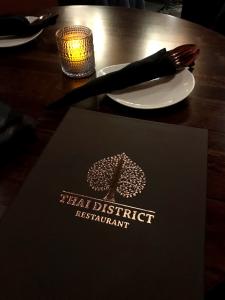 Thai District opened in December 2019 in Brownsburg along Green Street. The two female owners are best known as Pooky and June. Both ladies are originally from Thailand, but June has been living in Brownsburg for more than six years. Pooky has owned several Thai restaurants around Indiana.
June felt Brownsburg needed a nice sit-down option for authentic Thai food, so the two collaborated to open Thai District. They were excited about the look of Brownsburg's new downtown development, and felt it was the perfect setting for the style of Thai cuisine they wanted to offer.
The Atmosphere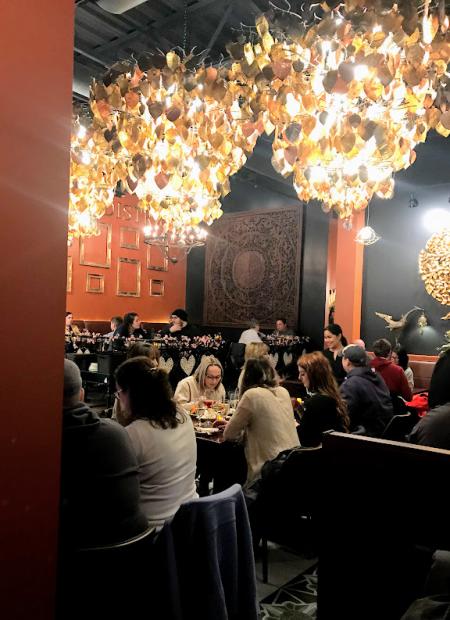 My husband and I opted for a date night on a Thursday to avoid the crowds, and we were promptly seated. But the restaurant definitely filled up!
The restaurant is bathed in black and shimmering gold, from the impressive leaf chandeliers to the gold-plated sinks in the restrooms.
Everything, from the place settings to the wall décor, is elegant. Pooky and June hope diners at Thai District feel as though they are visiting the home of a sophisticated Thai friend.
The main dining room is in the front of the restaurant, but there is also a nicely decorated back room for additional diners, and this room can be reserved for private groups.
My husband and I were seated at the small round window table at the front of the restaurant. I'd say it is the best table in the place; perfect for a little privacy, but it also offers a nice view of the front dining room.
The Service
June was our server for the evening, and she provided attentive service without being intrusive. It was just the right kind of service for a romantic dinner in an upscale restaurant.
As I am not very familiar with Thai food, I asked June a lot of questions about the menu. She was quick to point out their top-selling menu items as well as some basic Thai staples.
Best-selling appetizers include crab rangoon, spring rolls, sweet Thai calamari and the two-tiered platter, which allows you to try a bit of everything.
Pad Thai, pad kee mao (drunken noodles) and musssaman curry are popular entrees as well as many of their seafood items. June's favorite menu item is the tiger garlic and pepper, and she recommends the Pad Thai noodles, sweet and sour noodles or one of the stir-fries as a good start for people new to Thai food.
The Drinks
Before we made any decisions on food, we browsed the list of beer, wine and sake available. I asked June to recommend a sweet white wine, and she offered up the Castello Del Poggio.
It was the perfect choice for me!
June helped my husband select a Thai beer. He went with the Singha and thoroughly enjoyed this light, crisp beer.
The Food
Moving on to the food, we started with the Thai District platter so we could sample many of the restaurant's specialties. Not only was it presented beautifully, it was absolutely scrumptious!
With two of each item, my husband and I took our time as we each tasted the shrimp tempura, crispy wontons, crab rangoon, fried vegetables and much more. We dipped each item in the 4 unique sauce options creating even more unique flavors.
We are not fans of tofu, but every other item on the Thai District platter was a hit with us!
While many of the items were fried, the batter was light and crispy, unlike appetizer platters in other restaurants that tend to be heavy and greasy. I highly recommend the Thai District Platter for anyone who wants to get a taste of Thai cuisine!
For the main course, I chose the Volcano Shrimp, which was presented on a hot plate that sizzled and popped (a small eruption, hence the name) as the special sauce was poured over the top. My husband opted for the salmon and shrimp special in a green curry sauce.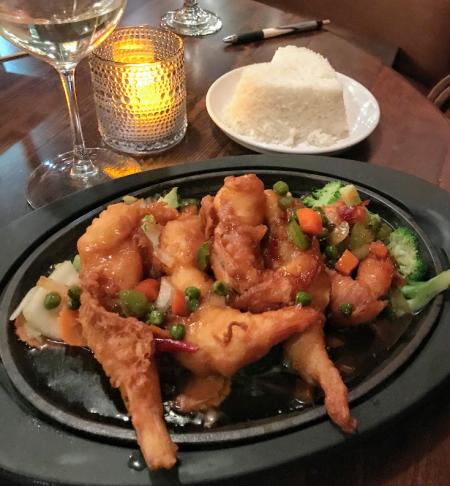 Both meals were served with a side of Jasmine rice (heart-shaped as it was nearly Valentine's Day), and we got to choose one of the five levels of heat for each dish. I went with the medium and my hubby chose hot.
June assured us that customers who don't like spicy food can easily be accommodated at Thai District.
Already feeling a bit full from the large appetizer, we dug into our entrees and were both thrilled with our selections. The sauce with the volcano shrimp had just the right amount of kick, and I sopped it up with the shrimp and vegetables.
I was so enthralled with my own dish that I didn't even try my husband's salmon, but he gave it rave reviews. The only downside was that we were way too full for dessert!
We will definitely return to Thai District, and maybe this time we will save room for some sweet sticky rice with mango or fried banana with ice cream.
If you love high-quality Thai food, then you must try Thai District. If you are new to Thai cuisine, then I encourage you to put yourself in the capable hands of the staff at Thai District and let them present you with a meal that is sure to please your specific palate.
Thai District
Address: 5724 N. Green St., Brownsburg, Indiana Phone: 317-939-2112 Website