Editor's Note: This is the second in a series of posts following the journey of Rose DeLarme and Matt Cronley, from the moment they met until that magical day later this year when they say their I-do's. To read their first post, click here. They plan to share planning tips from their experiences and how Visit Hendricks County can help future brides and grooms prepare for their big day with free resources many people may not even realize exist such as help with lodging and entertaining out-of-town guests as well as a wedding guide filled with local florists, photographers, caterers and more.
Our magical vacation was over, and Matt and I returned home eager to share our engagement with our friends and family. Did you know, when you tell someone you are engaged the first thing they will ask you is when and where you are getting married? 
We gave the typical, "still figuring it out" response, but definitely felt the pressure to get the planning started.  Between family events and buying a house, trying to find a venue was exhausting. 
A fabulous social network called Pinterest has beautiful and lavish photos of every sort of wedding you could dream of. The problem is, there are so many options, that it is impossible to figure out what you want. 
Destination wedding? Local Wedding? Elope? Beach wedding? Church Wedding? Museum wedding? The options were endless! I was overwhelmed, and nothing seemed to fit just perfectly.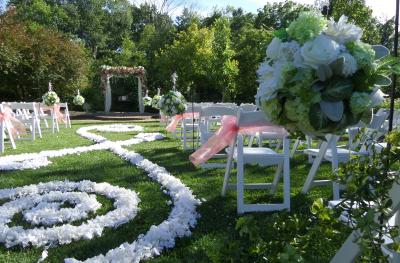 Every time one of us had an idea, there was some reason it would not work. We threw all ideas aside, and looked at what specific criteria we wanted to have for our wedding:
Beautiful location that was preferably outdoors (This minimizes décor needs)
Morning ceremony option (Who doesn't love brunch?)
Reception onsite within walking distance
Affordable (We set a budget that we knew we could afford, and were determined to stick to it)
Smaller venue for 50-75 guests
I had almost given up hope on a wedding near Indianapolis within our budget. I stumbled upon photos of a venue that I thought might work, and while searching for other photos of that venue I found Avon Gardens. 
The photos were breathtaking and whimsical. I had never heard of Avon Gardens before. After showing the photos I found to Matt, we both agreed we wanted to see it in person.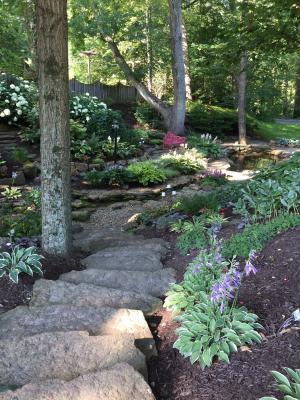 We reached out to Karen Robbins, the owner, and she provided us all the information we needed. It met all of our requirements and more! Almost everything was included in our rental, from tablecloths to centerpieces. Even pre-ceremony water for our guests! Did I mention they have outdoor heaters and air conditioning? 
We promptly got in the car and drove out to meet with Karen. My jaw dropped the moment we arrived, and we happily explored the gardens for an hour and a half dreaming of what our wedding would look like there. 
After months of searching, we knew this was the place. Karen and the Avon Gardens team treated us with such care and compassion. We were not just another event to them. They truly cared about our big day and making it a magical event that we will remember for a lifetime.
I'm so thankful we found Avon Gardens. It is going to be the perfect garden backdrop to our morning wedding and brunch reception complete with Bloody Marys, mimosas and waffles of course. 
Matt and I also have them to thank for giving us resources from Visit Hendricks County, and for letting us know that there was a bridal fair for the county happening the next week! With excitement, we secured our venue, and I planned my day at the bridal fair.