Editor's Note: This is the third in a series of posts following the journey of Rose DeLarme and Matt Cronley, from the moment they met until that magical day later this year when they say their I-do's. To read previous posts, click here.
We finally set a date and location for our wedding! In many ways, that was the most stressful part of planning our wedding.
Thanks to the team at Avon Gardens, we had lots of information published by Visit Hendricks County to help us with the next phase of the wedding planning process. Visit Hendricks County has this amazing booklet with information on all sorts of vendors by category and arranged by city.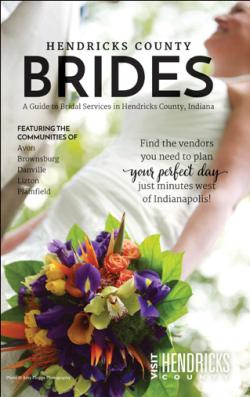 We strive to shop local when we can, and wanted to use all local vendors for our wedding. This guide was so helpful for that. And we had truly lucked out, because the Hendricks County Flyer's Just Married Wedding Expo was happening in Hendricks County the following weekend. 
Matt opted not to attend, so I headed over that Sunday with some major pep in my step. It was so exciting to begin planning all of the smaller details. 
When I entered, they gave me a crown. I felt like a princess for the day. 
I'm habitually early to just about everything so there were still a few vendors setting up. Luckily, Visit Hendricks County was right at the entrance, so I started talking to them while waiting. I had no idea they could provide so much help to me for my wedding.
Not only have they compiled a guide book of vendors and contact information, but they would also assist with setting up room blocks and welcome bags for our guests. Did I mention that all of this is free? Since we are planning our own wedding, we could use all the help we could get.
The bridal fair was incredibly insightful. I got to try cake and food from local vendors, view floral arrangements, meet with different dress boutiques, price out suits for the groomsmen and so much more. I recommend attending this year's event if you can, which is scheduled from noon to 4 p.m., Aug. 27 at the Hendricks County 4-H Fairgrounds & Conference Complex in Danville.
Matt is originally from the Indianapolis area, but I moved here just four and a half years ago. Most of my family is in the Chicagoland area or has flown south for retirement. So, we knew we would have many traveling guests and wanted to lock down a hotel room block so that we could provide that information with our save the dates. The great folks at Visit Hendricks County instructed me to figure out room blocks immediately because events and other factors could cause hotels to fill up quickly.
Typically, when looking to book a hotel room block, you have to submit an online inquiry through a corporate website and hope they call you back. Visit Hendricks County made this process so incredibly easy. They reached out to the local hotels for us, and provided us all the information on the block rates they could each offer and who specifically to contact at each location to book the block. A short phone call later, and everything was set up! 
I'm incredibly thankful for the stress-free experience. When our wedding date gets closer, we will pick up welcome bags from Visit Hendricks County for all of our guests at check in. 
Armed with the Visit Hendricks County Bridal Guide, and what I learned at the bridal fair, our next adventure was to secure all of our vendors.  Let the fun begin!