In our second of four daily installments to give you a taste of each of our remaining TourHendricksCounty.com Pizza Playoffs contenders, we are highlighting a matchup between two carry-out only pizza shops on opposite sides of the county - No. 3 seed Buzz's Pizza in Plainfield and the 10th-seeded Pittsboro Pizza Shoppe. Voting for Round 2 remains open through March 19 by visiting our
Pizza Playoffs website
. To see our previous review of Rock Star Pizza vs. Randelli's Gourmet Pizza, click
here
. The remaining reviews of our other two matchups will be posted on All Access Hendricks County on Friday and Saturday.
3 Buzz's Pizza
Reviewed by Kara Harlan
When we started the
TourHendricksCounty.com Pizza Playoffs
in our office, we were talking about what our all-time favorite pizza was.  My answer was the Royal Feast (deluxe) pizza with BBQ sauce at the Pizza King where I grew up.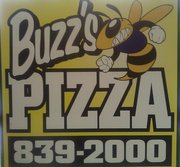 When I found out about the Pizza Playoffs, I was inspired to try a new place for pizza.  After reading about Buzz's Pizza in Plainfield, I decided to try it first because some people on Facebook said it was like the "old" Pizza King with diced pepperoni. I learned from our office that Buzz's was carry-out only, and that they don't open until 5 p.m. I called and ordered a small cheese pizza for my daughter and a large deluxe with BBQ sauce for the rest of the family. When we arrived to pick up our pizzas, we found a very simple, small shop with some pizza ovens and a counter in the middle of the room.  We watched as the worker cut the pizza with a huge blade and place it in a box.  The smells were wonderful and made our mouths water. When we got home, we started eating, and we were very pleased with what we tasted. My daughter, who can be a picky eater, ate several pieces of her cheese pizza.  My husband and son, who also love the "old" Pizza King, thought it was the same as "back home."  The only difference I noticed was that the mushrooms were canned and not fresh like they are on a Royal Feast. Otherwise, it was great pizza and it's nice to know I don't have to drive two hours to get pizza like my all-time favorite.  I'm sure we will get it again sometime soon.
10 Pittsboro Pizza Shoppe
Reviewed by Tracy Whetstone and family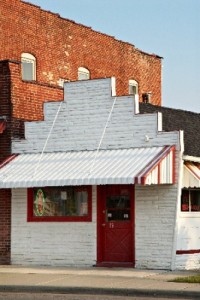 The Pittsboro Pizza Shoppe has been a staple in our family for years as we routinely (at least once a week) order a pizza from Vince (Posthauer, owner). Our favorites have always been pepperoni and onion, "Vince's Special" and his veggie pizza. The pizzas come on thin crust, and they are delicious. We also love the Pittsboro Pizza Shoppe's breadsticks, which come with a choice of marinara or cheese sauce. In addition to the good food, my family has always gone there because Vince is such a great guy, and it is a locally owned establishment, but be aware that it is carry-out only. I would highly recommend to anyone that they give Vince and his Pittsboro Pizza Shoppe a try. He's been around serving up pizzas since 1990, so that staying power alone should say a lot about his food and customer service. I'm getting hungry just writing about it. I may have to head over to Pittsboro Pizza Shoppe tonight!