In our first of four daily installments to give you a taste of each of our remaining TourHendricksCounty.com Pizza Playoffs contenders, we are highlighting the 2 vs 11 matchup pitting Rock Star Pizza against Randelli's Gourmet Pizza. To vote in Round 2 of our Pizza Playoffs, visit our
Pizza Playoffs website
.
2 Rock Star Pizza
Reviewed by Josh Duke
One review for
Rock Star Pizza
almost doesn't do this eatery justice considering it has two distinctly different locations in Hendricks County in Brownsburg and Plainfield, Ind.
I visited the Plainfield location, which is the smaller of the two. The interior fit the name as album covers, old band posters and even vinyl records decorated the walls. They even had a small area set aside with sound equipment and other musical gadgets for a house band, though no live music was playing the day we were there. The staff was as friendly as you would expect considering it was Owner Eric Morgan and his son doing everything from taking our order to cooking the pizza. We were there during their slow time on a weekday during lunch. We ordered a deep dish pizza with sausage and pepperoni. While we waited, we took in some of the ambiance including some light music. Eric even brought some breadsticks out to us while we waited, which was an unexpected but nice touch. Let me tell you, those breadsticks seemed to literally melt in my mouth. When the pizza arrived, it came out of the oven at just the right temperature with gooey cheese and plenty of filler, which in my opinion you must have for any good deep dish pizza. It tasted as good as it looked as I sunk my teeth in. As I enjoyed the pizza, I began to realize just how worthwhile this Pizza Playoffs promotion has been not only for our pizza patrons, but for us at the
Hendricks County Convention and Visitors Bureau
. None of us had tried all of these pizzas. Heck, I didn't realize some of these locally owned pizza parlors existed. I will be back to Rock Star. In fact, I can't wait to try their new  location in Brownsburg owned by Ron Mathews. I may even get adventurous and try their award-winning Caribbean Twist pizza!
11 Randelli's Gourmet Pizza
Reviewed by Steve Slosarek
Every day, there is a train wreck waiting to happen in
Avon, Ind
. Only in this case, it's one of the specialty pizzas offered daily at
Randelli's Gourmet Pizza
on U.S. 36.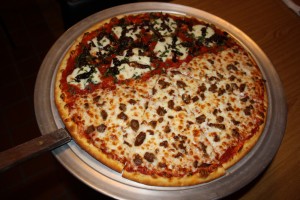 I have never seen a more cleverly named pizza. The pie features every topping available at Randelli's, except chicken. You want it all? You got it. But what makes the name apropos is the location of Randelli's. It's tucked away in a small strip mall right next to the CSX Big Four Rail Yard in
Hendricks County
. The restaurant plays up that theme, with engine red walls, railroad decor and an elevated HO scale model railroad that circles the room with two trains running in opposite directions. Randelli's pizzas are unique. I was impressed with the mix of traditional and gourmet pizzas. Avon residents, Randel and Cheryl Patterson, spent countless hours tinkering with their recipes. The fruits of their labor are a remarkable mozzarella/provolone/asiago cheese blend, homemade sauce of tomatoes and spices, and a thin crust made from fresh dough. My one-topping pizza, featuring pleasantly spiced pepperoni slices, melted in my mouth. The interplay was phenomenal; not one ingredient dominated. For a sweet ending, I devoured the mouthwatering Cinnapizza, which customers receive free if they're hosting a pizza party.