In our third of four daily installments to give you a taste of each of our remaining TourHendricksCounty.com Pizza Playoffs contenders, we are highlighting a matchup between two distinctly different pizza shops – No. 1 seed Sal's Famous Pizzeria, which has locations in Brownsburg and Plainfield, Ind., and the 12th-seeded Amo Pizza Shop.

Voting for Round 2 remains open through Monday by visiting our
Pizza Playoffs website
. To see our previous Round 2 reviews, click
here.
Our final review featuring Frank's Place and Piezanos Pizza will be posted Saturday.
1 Sal's Famous Pizzeria
Reviewed by Josh Duke
I actually have lived in Brownsburg for eight years, and I almost hate to admit I had never tried Sal's Famous Pizzeria until this week. What a mistake. I visited their Brownsburg location with my family and loved the coziness of their dining area, which included two rooms, a small bar and murals painted on the walls. I've also been inside but never ate at their Plainfield location, which is a little bigger and newer. Owned by Salvatore Russo, Sal's Famous Pizzeria definitely has that authentic Italian taste and feel as he has used his mother's inspiration to create every recipe. Sal's had plenty on the menu to choose from including salads, pastas and the reason we were there, their famous pizza pies.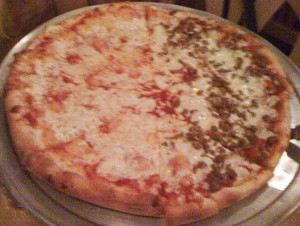 I did start with a salad, which was amazingly fresh with just the right amount of carrots, onions and feta cheese to complement the lettuce. When the pizza arrived, they put it on a riser to give us more room on the table. We ordered a half cheese, half sausage pizza. When I took my first bite, I couldn't believe how good the crust and sauce tasted. I started with a slice of cheese pizza, so I could concentrate on the crust and sauce. It isn't often that I rave about a plain cheese pizza, but this is one of those exceptions. It was amazing! A slice of sausage pizza only enhanced those flavors. I also was impressed with our server who refreshed our drinks before we even realized we needed them. All in all, our family had a wonderful experience, and we will be back.
12 Amo Pizza Shop
Reviewed by Josh Duke
Some who read this may not even know where Amo is much less its Pizza Shop, but after trying it for the first time for this review, all I can say is you may want to look it up on one of our
Hendricks County maps
.
The
Hendricks County Convention and Visitors Bureau
ordered a couple of pizzas from
Amo Pizza Shop
this week, including their Around the World pizza, piled high with 13 toppings — black olives, green olives, mushrooms, sausage, hamburger, pepperoni, ham, banana peppers, jalapeno peppers, onions, Italian sausage, green peppers and bacon. The large version of this pie weighs in at 7 pounds! Tucked in the back of the Amo General Store, I got what I expected inside the building. The General Store and Pizza Shop definitely have that worn-in feel giving it a kind of charm. I noticed some limited dine-in seating and of course carry-out is available. Everyone inside was friendly as expected, and I could immediately understand how this hidden gem made it into the second round of our TourHendricksCounty.com Pizza Playoffs even before I tried their pizza. Speaking of the pizza, the Around the World had just the right combination of savory, spicy and meaty on a beautifully cooked crust. I normally don't like olives on my pizza, but this pie had so much going on that I hardly noticed. I also tried a more traditional sausage and pepperoni pizza. It almost had the feel of a thin deep dish, if that makes sense. The cheese was so thick that the crumbled sausage and pepperoni slices were actually hidden underneath. Others who were with me compared Amo's pizza to the Jack's Pizza chain. But no matter how you slice it, this is definitely one local eatery that is worth the trip.