Sometimes I prefer to watch a movie the old-fashioned way. When that special mood strikes, I set my sights on the
Royal Theater
in
Danville, Ind
.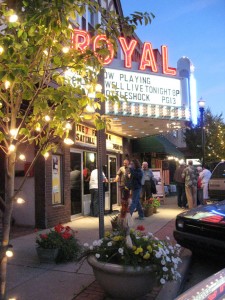 Stepping into the Royal is like stepping back in time. This grand old Hendricks County theater, which screened its first film in 1914, exudes character. When I walk under the venerable, triangular marquee and into the lobby, a nostalgic chill overcomes me. Somehow, I can picture sophisticated moviegoers from 10 decades ago standing in my very spot. I sense that I am about to watch a movie the "right" way. As I swing open the doors from the lobby to the theater, I am captivated by the blue-rippled, gathered fabric that impressively gives the illusion of massive window coverings. Above each draped "curtain," from the front of the theater to the back, is a golden, elegantly lettered "R." Glowing sconces above the cursive lettering emanate radiant light. Royal, indeed. I plop down into one of the comfortable, 200-plus chairs and soak in the history while ceiling fans gently revolve. Showtime is about to begin on the large screen, but a traditional short precedes the main attraction. This time, it's a "Looney Tunes" classic. The Royal Theater doesn't live in the past, though. The movie offerings are up to date. Recent first-run features include the family-friendly "We Bought a Zoo," "Jack and Jill" and "Happy Feet 2." When the feature film ends, I savor my favorite part of this 98-year-old gem on the Hendricks County Courthouse Square. As credits roll and silence pervades the theater, I can hear the film churning through the feed reel of the movie projector. The old-time sound comforts me. At the Royal, experiencing history is just as important as experiencing a movie. And it comes at an inexpensive price. Movies are $5 (matinees $3), children 2-12 $3, younger than 2 free. Concessions include popcorn, soda and a big pickle. If there is a line at the concession stand, lobby fixtures, such as a "101 Greatest Movie Quotes" poster, keep you entertained. Films, however, aren't the only entertainment at the Royal. A large, wooden stage in front of the screen serves as a platform for concerts.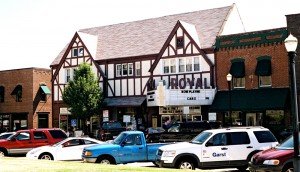 A
Songwriter's Showcase
on Jan. 28 features four musicians. Tickets are $10, and beer and wine are available. On Feb. 18, acclaimed singer-songwriters and storytellers constitute the Miracles, Myths, Lyrics & Lies, an evening of stories and songs with Carrie Newcomer, Krista Detor, Philip Gulley and Scott Russell Sanders. Movies, music and memories. All are on full display at the stately Royal Theater.