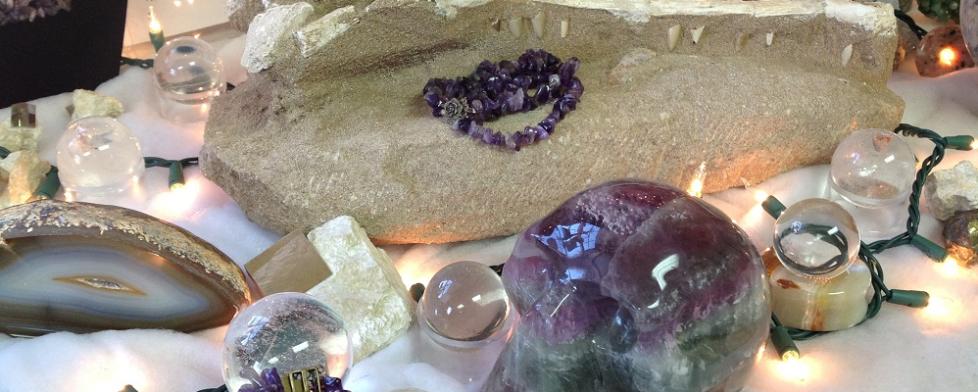 Ever wonder what kind of personality it takes to love rocks? 
Visit Hendricks County is pleased to introduce you to Lorrain Fluhr, owner and operator of FROGS (Fossils, Rocks or Gemstone Store) located in Pittsboro, in its continuing look at the personalities behind the attractions that make the Rural Routes to Main Street Cultural Trail such an amazing attraction in Central Indiana.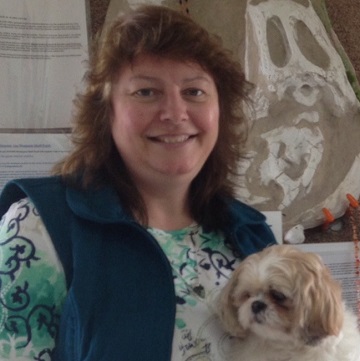 Lorrain has always had an interest in rocks, but she never dreamed she would one day own a specialty store dedicated to them. In fact, by the age of 23, she had obtained a master's degree in chemical engineering and spent the next 15 years in the field.

After her oldest son was born, they discovered he had severe allergies to just about everything. After owning her own business to be closer to home for about 8 years, Lorrain decided to sell the business in 2010 and stay at home with her two boys.
She enjoyed her time as a stay-at-home mom. Her and the boys especially loved outings. One outing three years ago to Elwood, Indiana though, changed Lorrain's life forever.
Hearing about the largest rock shop in Indiana, her and the boys hopped in the car to check it out. However, when she arrived, she discovered a for sale sign in the front yard. She almost jokingly said to the boys that maybe she should call the realtor. And so her new path began.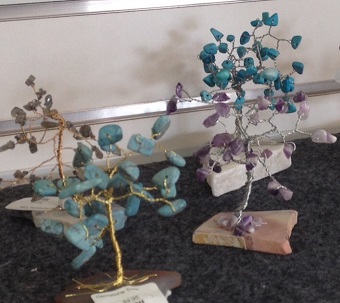 Having the money to invest from the sale of her business and a location ready for something new, she went home to talk to her husband and within 10 days she had signed a contract and moved the inventory to Pittsboro. She opened FROGS (Fossil Rock or Gemstone Store) on November 11, 2012, and she's having the time of her life.

She has learned so much along the way and has become a wealth of knowledge in the industry. If you have anything you'd like more information on, she will help you find it. In addition, she offers classes in lapidary (cutting and polishing your stone) and sets her own jewelry. And the pieces are beautiful. She even offers classes in lapidary, silver bezel setting, brass/copper, wire wrapping and even making your own gemstone tree.

Besides helping others fall in love with the same interests she adores, she loves helping people design or find that special piece. In fact, there was a husband recently that came in with some rocks he and his family found on a vacation. She helped him make beautiful, smooth custom set necklaces for him to give his wife and girls as a memento from their trip. Stories like this bring a smile to Lorrain's face and reiterate what FROGS was meant to be.

The kids and I had a blast exploring FROGS in Pittsboro. We learned so much not only about rocks, but fossils as well. One of our favorites was the rare Mega Dinosaur Age Mosasaurus skull fossil. This predator is like the Tyrannosaurus Rex of the ocean.

Lorrain welcomed my children at the door with three rules.
No. 1: If you can reach it, feel free to touch it and pick it up. This is one store they are encouraged to explore and have fun.
No. 2: Do not argue or fuss with your parents. I loved this. Lorrain just wants to make sure the kids and the parents both have a good time.
No. 3: Have fun! Because rocks are cool!
FROGS (Fossil Rock or Gemstone Store) is on the Rural Routes to Main Street Cultural Trail and located at 108 W. Main St. (U.S. 136) in Pittsboro.
Be sure to stop in and say hello during regular business hours, 10 a.m.-5 p.m. Tuesday-Thursday and 10 a.m.-6 p.m. Friday and Saturday. You will receive a warm welcome and maybe even a new love for fossils, rocks and gemstones.