There are around 50 different auto racing tracks in Indiana and racers line up every week to do their best at coming out in front on the last lap or clocking the best time or speed. Working their way up from karting or the dirt tracks, hopefuls dream of one day playing in the same sandbox as the big boys.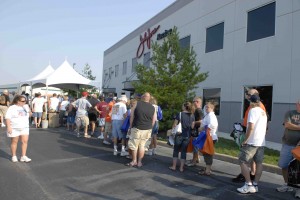 Here in Hendricks County, several of the big boys – the professional and top teams – build their cars and plan their strategies – including John Force Racing in Brownsburg.
From 3–7 p.m. on Thursday, Aug. 30,
John Force Racing throws open the doors of its team headquarters at 498 Southpointe Circle  for the annual John Force Summer Car Show. Racers, fans, friends and families get to see where the championship-winning magic begins and rub elbows with those who make it happen.
Cost of admission? Cans of food.
All food collected will be donated to the Hendricks County Food Bank and Sheltering Wings, a shelter for victims of domestic abuse. An added bonus is for every can you donate, you get a ticket for the drawing to win a Sanyo Big Screen TV! Fans know
John Force Racing loves to give away prizes
and that's happening at the Summer Car Show, too. At every race weekend, visitors sign up at the kiosks around the John Force Midway display and are entered to win prizes like a Whirlpool washer and dryer or a 55" TV from BrandSource and lots more. Visitors to the Summer Car Show will have the same opportunity to sign up for prizes since the John Force Roadshow will be at the event. The Summer Car Show is a gearhead's delight and this year, it's even better for them to bring their families, too. There is just so much to do and see!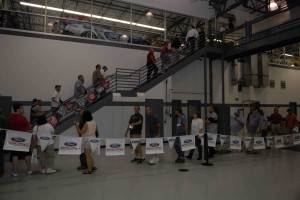 Tours of the expanded facility will be ongoing and while the car geeks drool over the machine shop and the fabrication shop, fans can explore the Eric Medlen room and the John Force Racing Museum.
Kids will be drawn to the Traxxas Kids Zone where they will be able to race the Traxxas radio control cars.
The whole family can cram into the 4FunFotos photo booth for a commemorative photo with a donation. All proceeds go to Sheltering Wings.
Everyone can enjoy viewing hundreds of show cars while tapping your toes to the sounds of Terry Lee and the Rockaboogie Band.
This year visitors can get a little taste of Indy fare from some of the most popular local food trucks including Scratch StreetFood, Edward's Dashboard Diner, Taco Lassie and Byrne's Grilled Pizza.
The John Force retail shop will be open and there will be lots of sales – which is a great place to pick up that T-shirt or hat for drivers to sign at the Driver Autograph Session from 4:30 – 6 p.m.
Learn more about today's Ford vehicles at the Bill Estes Ford booth and display.
Radio personalities Shane Ray from Radio Brownsburg and Joe Castello from WFO Radio will both be broadcasting.
Visit booths to find out more about Sheltering Wings, the Hendricks County Convention & Visitors Bureau and Ronald McDonald House.
Race weekends are a flurry of activity for teams and fans. This event gives you the opportunity to see what goes into those winning runs and championship teams up close and personally. It's also the time to relax and have some good ol' end-of-summer fun! See you there!
Making the Most of the John Force Summer Car Show
Go early. It is common for 3,000-5,000 people to attend the event and many come after work. So the crowds pick up after 5 p.m.
Parking: Always an issue, but spots are available on the east side of the John Force building, next door in Don Prudhomme's lot and down Southpoint Circle. (Another reason to go early!) Before you go, check the John Force Racing website for a map.
For the TV raffle, each can of food donated gets a ticket – the more cans you bring, the more chances you have to win. (And the food goes back into the community – so bring an armload!)
Stop by the information booth to get information and a map about the layout of the event. Four hours may just not be enough time to see and do everything.
Talk to people. One thing about racers is that most of them love to talk about racing and have great stories. This is a great time to hear some of them!
Of course, be on the lookout for all your favorite John Force drivers, including John Force himself. You'll have no better chance to say hello to your heroes than at the Summer Car Show!