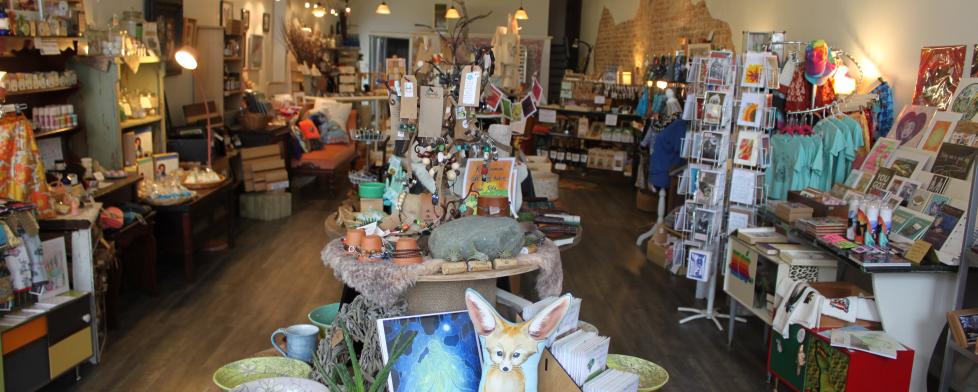 One of the best things about traveling in Indiana is finding those hidden gems that seem almost tucked away from the rest of the world. But the "hidden" aspect of these special locations means that sometimes they can be hard to find without an insider's knowledge of the area.
That's what makes the Rural Routes to Main Street Cultural Trail so exciting. It's a self-guided driving tour of some of the best local shops that create and sell handmade goods.
The trail started in 2010 in Hendricks County, and in 2013 it expanded to include attractions in Morgan County. This year, the trail has expanded even further, and now includes several fantastic local artisans in Putnam County. In addition to that expansion, Visit Hendricks County recently unveiled a refresh of the trail's printed guidebook and logo and announced new members to the trail.
I had the chance to visit a few of the new locations in Putnam County recently, and will get to that experience in a moment.
But first I wanted to share this year's new trail additions in Hendricks and Morgan counties, including one my favorites, The Beehive in Danville. Adding this local eatery/market was a stroke of genius. Arcane Coffee Company, in Danville, also joined the trail this year, as did Peacetree Mountain Truffles at the Olive Leaf, which is a store inside The Shops at Perry Crossing in Plainfield.
Morgan County has four new additions, two of which -- JK's Cheesecake Cafe and the Academy of Hoosier Heritage Museum -- return to the trail after a brief hiatus. The other new additions include another restaurant, Come 'n Git It in Martinsville, and a Second Saturday site, the Mooresville Art Partnership.
My special trip though focused on a few locations in Putnam County that I had never visited before. As I soon found, they are all worth the drive!
Conspire: Contemporary Craft
I could've spent hours exploring all that Conspire: Contemporary Craft has to offer. It's a shop full of unique handmade items from local and regional vendors, and it has things that you just won't find anywhere else.
In addition, the shop offers classes on things like soap making and creating altered books. There's also a studio space where much of the soap and art for sale in the shop is created. 
Completely Nuts and Candy Company
You can smell the deliciousness of Completely Nuts and Candy Company before you even walk in the door. Inside you'll find handmade chocolates of all types, with something for everyone.
Everything is made in-house from fine Belgian chocolate, and you can taste the richness and quality in every bite. Their best-selling item is the turtle, and my taste-testing will verify that it is delicious.
This is a great place to stop in for some tasty Valentine's treats.
The Moonstone
A Second Saturday addition to the Cultural Trail is The Moonstone. Second Saturday sites are locations added to the trail on the second Saturday of every month only. 
This charming little shop features crystals, incense, handmade jewelry and a wide variety of art supplies for those wanting to create their own masterpieces. The Moonstone has a friendly, welcoming vibe, and is a great place to explore and learn more about the healing properties of natural elements. 
Other Putnam County Cultural Trail locations include:
For more information about the trail and our tips for making the most of it, be sure to follow the Rural Routes to Main Street website. You can also contact us to receive a printed guidebook with information about all the stops across the three counties. 
If you're looking for a weekend getaway that is full of hidden treasures, spend some time exploring the Rural Routes to Main Street Cultural Trail. You're sure to find something truly unique that will make you fall in love with small-town Indiana.