Imagine a weekend where you can sample amazing, locally made wine, make a holiday ornament, enjoy a carriage ride and watch a patriotic speed painter. Well, if you follow my lead, you can do all that and more Dec. 8-10 in Hendricks County by exploring the
Rural Routes to Main Street Cultural Trail's Holiday Open House
.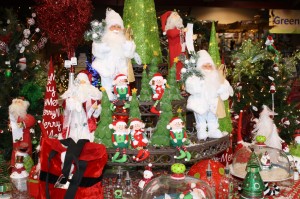 This holiday edition of the popular, year-round self-directed driving tour will lead you to Hendricks County art studios, galleries and other creative spaces. Shop for unique gifts and enjoy special events and workshops as you travel along scenic, open roads just in time for the holidays. To preview the Hendricks County Convention and Visitors Bureau's exciting event, I visited a few of the stops along the Rural Routes to Main Street Cultural Trail and even got a sneak peek of one of the holiday open house workshops the other day at
Frazee Gardens
in Brownsburg. Frazee Gardens will feature three workshops during the three-day holiday open house including: Pinecone Bird Feeders (10 a.m. to 5 p.m. Dec. 8, free); Winter Planter Demonstrations (10 a.m. to 5 p.m. Dec. 9, free) and Doggie Treat Decorating (3 to 4 p.m. Dec. 10, $10 with registration). I participated in the Winter Planter workshop from the comfortable confines of the large, heated greenhouse. The normal presenter, Dottie Warner, was not in that day, but Melissa McConnell filled in admirably. Melissa showed me how to - pardon the pun - spruce up a potted evergreen, in this case a dwarf Alberta spruce. Within minutes, the planter went from plain-Jane to a beautifully decorated tree that is able to withstand the cruel outdoor elements of winter.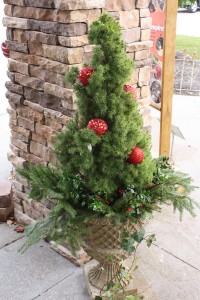 Thriller, spiller and filler. Those are the watchwords of winter planters. The thriller is the main attraction, in this case the spruce. The spiller hangs from the sides of the holder, such as ivy or your own ground cover. Filler ranges from unbreakable ornaments to pots of holly wired with fake berries that fit within the spruce's pot. Go to Frazee Gardens to learn more details and see how it's done. You will be surprised at how simple it is to make something look so festive. But there's so much more to see on the Rural Routes to Main Street Cultural Trail Holiday Open House, including:
Click
here for full details
on all the Rural Routes to Main Street holiday open house activities. Make sure to check some of them out. You will be glad you did.