Rush Off Main is one of the first businesses to open in Brownsburg, Indiana's new Main Street redevelopment and after having lunch there with my mom this week, I think it's going to be the perfect addition.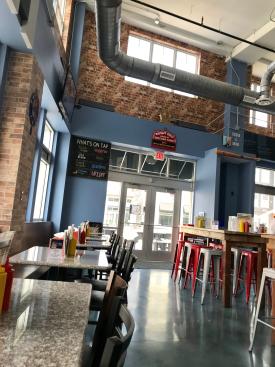 We found ample parking in the parking garage directly across the street. Then, the first thing I noticed walking up to this Chicago-style eatery was the outside seating. We happened to be visiting on a beautiful, 80-degree spring day so I am always thrilled to find new outdoor seating in Hendricks County!
The inside was wide open, spacious, and decorated with Cubs paraphernalia, tall wood tables and tie-ins to Chicago's food and culture. Our waiter told us he was such a big fan of the place that working there just made sense. Having lived in Chicago, he assured us the food here couldn't be beat and tasted like it was straight from Chicago kitchens.
The owners, Jeff Sepiol and Johnny Vargo, are from the Chicago Region and wanted to bring the local flavor to Hendricks County.  
While you'll find plenty of options on the menu, the #1 seller is the Italian Beef Sandwich. In fact, their tagline is: Home of Da Beef. The beef is seasoned, slow roasted and sliced in house.
The rest of the menu, also made in-house and always fresh, features an array of Chicago-style foods, including burgers (and I am talking literally overhanging-the-bun kind of burgers), hot dogs, tacos, salads, sandwiches, snacks, chips and fries as well as desserts.
Each table had conversation starter cards, which I loved. They also have a kids' menu, daily specials, lunch specials and a late-night menu. The drink menu features wines, beers and cocktails as well as a vodka bar, where you can add whatever you like to your vodka…because let's be honest, how we like it (or if we like it) depends on the person and depends on the day.  Am I right?
I opted for a salad, but my mom went for a hot dog with cheese and a side of fries. And oh, am I happy she got the French fries. They were some of the best I have had in a long time…perfectly crunchy, perfectly brown and perfectly seasoned.
My southwest chicken salad was just the right size with a delicious chipotle ranch dressing. My mom's cheese dog was per her specifications (and as a hot dog lover she would know).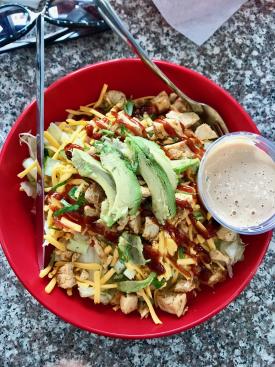 Having just opened in March, Rush Off Main has enjoyed a very busy few weeks with a lot of support from the community. You can follow them on Facebook and Instagram to stay up to date on specials and events. There will be live music once or twice a month, with Chad Mills playing this Saturday from 8 to 11 p.m.
They also often host fundraisers for local organizations.
Make sure to mark your calendars for Customer Appreciation Day on Thursday, May 23! To thank the community for all of their excitement and support, all drinks will be just $4 that day. That's right: every single drink, only $4. So come enjoy this new gathering place that's sure to become a new favorite for Hendricks County residents and visitors alike!
Rush Off Main is located at 5767 N. Green St. in Brownsburg, and is open Sunday to Thursday from 11:30 a.m. to 10 p.m. and Friday and Saturday from 11:30 a.m. to 11 p.m.
You can visit their website and view their menu ahead of time by clicking here.