Are you like me and most always in the mood for pizza? I hope you're responding with an enthusiastic "Yes!"

As a visitor to
Hendricks County
, I'm eager to try out as many pizza places as I can. Let's start with one of my favorites,
Sal's Famous Pizzeria
, a local
Hendricks County
restaurant, with locations in
Brownsburg
and
Plainfield
, Indiana. Need a new place to go out to eat with family and in the mood for a local place? What about a place where you can please the entire family? You know — for those nights when you want pizza and the kids want pasta (or vice versa). You can have both pizza and pasta at Sal's. It's a win-win. One night last week, my parents and I stopped in Sal's Famous Pizzeria in Brownsburg after a busy evening of Christmas shopping and driving around to see Christmas lights. We were all in the mood for pizza and settled on splitting a 16-inch hand tossed thin crust pizza with half sausage and half pepperoni.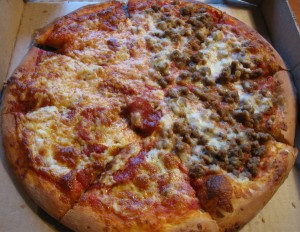 We also decided on an antipasto salad with homemade Italian dressing. Sal's is a charming Italian restaurant with friendly service and just the place to enjoy a meal with family or friends. Our made to order pizza had a chewy crust with the right balance of sauce and toppings. We were all too full to order dessert, but on my next visit, I'm looking forward to trying the Tiramisu, or maybe the Cannoli. If you're in the mood for an authentic Italian experience (Owner Salvatore Russo is originally from Italy you know and uses many of his mother's traditional recipes) and a friendly restaurant serving up pizza and pastas, Sal's should be on your list of places to try. Sal's Famous Pizzeria1028 E. Main St., BrownsburgPhone: (317) 858-8700 Or in Plainfield, which is super convenient if you're in Christmas shopping at 
Metropolis
.350 E. Main St., PlainfieldPhone: (317) 837-8800 The Plainfield location also offers Wood-oven fire pizza. 
Inside Sal's Famous Pizzeria
:  You'll find a cozy, family-friendly Italian restaurant with wallet-friendly prices and something for the entire family, such as tempting appetizers (garlic rolls, breadsticks), salads (Antipasto –a salad with mixed lettuce, cheese, meats, tomatoes and cheese and best with the homemade Italian dressing), pizzas (thin crust or deep dish with offerings from traditional cheese to the more adventurous, Hawaiian – ham and pineapple and mozzarella cheese), pastas, calzones and desserts. Sal's also serves wine and beer and has a full bar (if you're in the mood for a cocktail).
Recommended:
In my world, you can't go wrong with pizza and salad. On my recent visit, a few of my family members and I split a 16-inch half pepperoni/half sausage pizza and an antipasto salad. Not in a pizza mood? Try one of the pasta dishes, such as Five Cheese Ravioli ($11.95 at dinner) or Fettucine Alfredo ($11.75 at dinner).
Insider tip:
Sal's Famous Pizzeria is open for lunch and one of the few restaurants where you can order pizza by the slice (only until 4 p.m.). For our Morgan County readers, they also are about to open a third location in Mooresville, Indiana. Check their
website
for hours and menu.
Are you a fan of Sal's Famous Pizzeria?  If so, what's one of your favorite dishes?  Leave a note in the comments.