Do you crave the wind in your face and the rush of moving 50 or 60 mph with your feet just inches above the pavement? If you've ever ridden a motorcycle for any time, you know exactly what I mean. For those of us (yes, even me!) who have, it's a feeling you just can't forget – and every time a motorcycle passes you in your 4-wheeled, many-doored vehicle, you catch yourself pretending that was you. Oohh.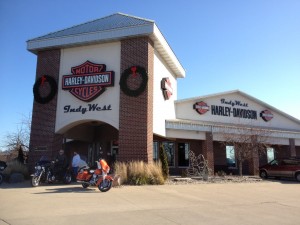 Well, you don't have to own a motorcycle to get that feeling a few times every year. You can just arrange to rent a Harley-Davidson machine from
IndyWest Harley-Davidson
in Plainfield. In fact, the Plainfield dealership is the only one in the state of Indiana where you can
rent a bike
! That's right, you heard me correctly. As long as you are 21 years old and have the proper motorcycle license, you can reserve one of a fleet of late-model Harleys for a day or several weeks. And with no mileage fees, you can take it to the coast, up into the mountains or just for a spin around every one of the back roads in Hendricks County! You could even take it on
The Rural Routes to Main Street Cultural Trail
! Terry Reilly, the rental and marketing manager at IndyWest showed me how easy it is to get back in the saddle. In fact, you can access reservation information and the application
online
24/7, or you can call or visit during retail hours (see box below) to make arrangements.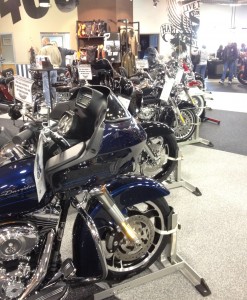 All the bikes in the rental fleet are late models and maintained according to factory specs. Terry called their program the "Ultimate Test Drive" because it gives people interested in investing in a motorcycle the opportunity to really try it out and be sure it's the bike they want to own. I say it's a chance to enjoy motorcycle touring without the storage, maintenance and other costs. Sounds like a perfect arrangement to me. But if you want to buy a new or used Harley-Davidson or purchase some accessories they obviously have you covered there, too. I love that they also rent out a trike – a three-wheeled motorcycle! Since these machines are big and heavy, that would be the one I would prefer if I were riding on my own since my feet don't even touch the ground when I'm on just about any motorcycle! If you are interested in a few days off enjoying the open road, choose your time carefully because rental season is a'hoppin' during local race weeks and reservations are made months, or sometimes a year in advance. But right now as autumn settles into the area, it is the
perfect time
to head down the roads and enjoy the cool air and fall foliage on the byways. Rentals are available all the way up to the Wednesday before Thanksgiving. After that, you have to wait until April – but even that gives you time to plan and make reservations for next year. The cost ranges anywhere from $99 to $199 per day, with a price break at three and seven days. The IndyWest rental agreement requires the use of helmets for all riders, and they provide the helmets and rain gear in the rental cost. Other riding gear – jackets, gloves, boots, etc., should be brought by the riders. They will even give you maps for the Midwestern scenic routes you may be seeking! Because the rentals are usually for a few days, the bikes are equipped with creature comforts for touring, amenities like saddlebags and passenger backrests. Terry did mention that renting a Harley is not the place to learn to ride a motorcycle or practice riding a motorcycle. These are big, heavy machines and not appropriate equipment for those who are just learning or are really rusty in their skills. But for every other biker without wheels in his garage, the call of the open road just started screaming, didn't it??
IndyWest Harley-Davidson
6201 Cambridge WayPlainfield, IN 46168Phone: 317- 279-0062
http://www.indywesthd.com
 Hours:        
Mon. – Tue.       9 a.m.  – 6 p.m.Wed - Fri.            9 a.m.   – 7 p.m.Sat.                        9 a.m.   – 5 p.m.Sun.                      10 a.m.   – 5 p.m. Hours change when Daylight Savings Time ends to:Mon. – Fri.      10 a.m.  – 6 p.m.Sat.                    9 a.m.  – 5 p.m.Sun.                   11 a.m.  – 5 p.m.