Pamela Powell-Warden, owner of
Confection Delights
where she creates what I like to call
chocolate art
, has done it again with one of those head-scratcher ideas that really is so simple it leaves you wondering,
Why didn't I think of that?
I just discovered these wonderful gift baskets that Pamela developed called
Savor the Flavor of Hendricks County
. She already has seven varieties, six of which are named after Hendricks County school mascots as she keeps that county theme going. The seventh, the
Forever
basket has a bridal theme. Each of the baskets caters to different price points and pallets as the local products within them can vary slightly based on availability.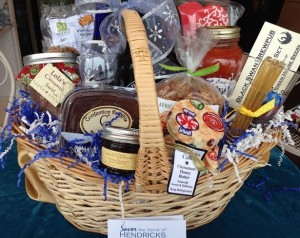 Some of the featured items within the gift baskets include granola, honey, chocolate, barbecue sauce, bread, cinnamon butter, marinara sauce, beef jerky, growlers, coupons and so much more. About 15 local businesses such as Bread Basket Cafe & Bakery, Moody Meats, Mayberry Cafe, Black Swan Brewpub, Perillo's Pizzeria and of course Pamela's own Confection Delights are featured within the baskets. Pamela told me the idea started as a way to expand her services after asking community stakeholders what was missing in the county. Savor the Flavor Gift Baskets resulted, and they have quickly become a labor of love for her and a win-win for participating businesses as another inexpensive promotional tool. Let me tell you, I will be a regular in ordering these for travel writers and other guests I invite to Hendricks County. These would make perfect gifts for business clients, family members or friends who don't live in Hendricks County or even that hard-to-buy-for special someone. For you Hendricks County visitors out there, you can even pick up one for yourself to sample a little of what Hendricks County has to offer before coming here or coming back. You can order the gift baskets or get more information by visiting Pamela's shop on the east side of the Square in Danville or on her
website
.