Savor Thyme Cafe has been on my list of must-visit places in
Hendricks County
for a few months now. Have you read Ericka's blog post about
Savor Thyme Cafe
? If not, you definitely should. It's what kept Savor Thyme on my mind as a restaurant I had to visit. My parents used to own a restaurant in Indianapolis which makes me a fan of locally owned, independent restaurants.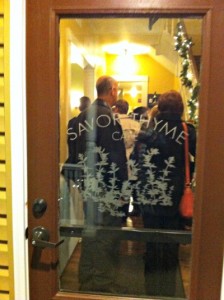 I'm not sure why it took me so long to get to Savor Thyme, but it's now one of my favorite places in
Hendricks County
. They've only been open around six months, but have already gained a loyal and devoted following from many Brownsburg residents. I like history, and here's a fun fact for you. Savor Thyme Cafe used to be the old parish house that belonged to St. Malachy Catholic Church. The home was built in 1900 and has been refurbished and transformed into the lovely Savor Thyme Cafe by owner, Sheron Bowman. There is dining available on the first floor and second floor (a great place for meetings or private events), and there's even a wonderful wrap-around porch with plenty of outdoor dining (a place I plan to regularly visit when Spring arrives).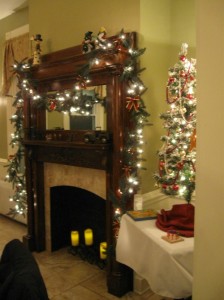 Just walking into Savor Thyme, I felt like I was in a cozy historic inn all decorated for the holidays. The holiday decorations are so tasteful, and I even snapped a few photos so I could recreate a few looks at home. There is even art on the walls from a local Hendricks County artist. I recently went to a wine tasting and dinner at Savor Thyme and was warmly greeted by Sheron. I could really tell she has a love for Savor Thyme Cafe and making sure her customers are happy. A few fellow dining companions mentioned to me they are regulars and are fans of supporting a locally owned restaurant in Brownsburg with wonderful food and service. At lunch, you'll find a variety of sandwiches, soups and salads, and at dinner there are meat, seafood and pasta dishes to tempt you. I plan to come back for their Sunday brunch (I'm a fan of brunch and plan to take a few friends there for a holiday meal).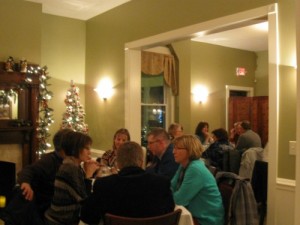 Looking for a date night restaurant? Savor Thyme Cafe is the place for you. It provides a romantic setting. In fact, a few of my dining companions told me Savor Thyme Café is their regular "date night" restaurant. What about you last-minute shoppers out there? If you're like me and need to do a bit more shopping before Christmas, here's an idea: Buy an experience such as Savor Thyme's cooking classes! Think of the child or adult foodie in your life. What about the budding home chef? Buy them a cooking class. It's an opportunity to meet other people who enjoy cooking and learn some new dishes. Here's the schedule of upcoming cooking classes at Savor Thyme Cafe.
 Adult Cooking Classes
Wednesday, Jan. 15, 6 p.m. - Obscure but Magical Panini Wednesday, Feb. 5, 6 p.m. - Sweets for your Sweetheart Wednesday, March 12, 6 p.m. – Soups Up Wednesday, April 2, 6 p.m. – Outlandish Dipping Adult classes are $40 each or you can buy a package of 3 classes for $100
Kids Cooking Classes (ages 8-18)
Wednesday, Dec. 11, 6 p.m. – Dips to Compare Wednesday, Jan. 22, 6 p.m. – Pasta Goes Wild Wednesday, Feb. 12, 6 p.m. – Veggin' Out Wednesday, March 19, 6 p.m. – It's All About Finger Foods Wednesday, April 9, 6 p.m. – Quesadilla's Savory & Sweet Kids classes are $30 per person or you can buy a package of 3 classes for $75 Classes have limited availability, so call
(317) 858-7862
in advance to reserve a spot. You can also e-mail Sheron Bowman at
Sheron@savorthymecafe.com
. Savor Thyme Cafe is located at 224 N. Green St., Brownsburg. They serve lunch 11 a.m.-2 p.m., Tuesday-Sunday. Dinner is served from 5-9 p.m. Friday and Saturday (during Winter). They also offer a Sunday brunch from 10 a.m.-2 p.m. Want to know more? You can check their
website
and keep up with the latest news and specials on their
Facebook
page.
Have you been to Savor Thyme Café before? Tell us about your experience.