There is something nostalgic, relaxing and just plain wonderful about a local establishment, serving fresh homemade food in a spot with a lot of history. All of this and more can be found at the new
Savor Thyme Cafe
in Brownsburg.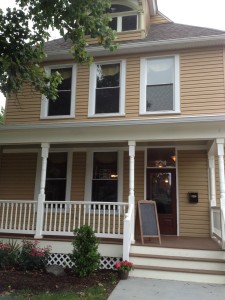 Savor Thyme Cafe has made its home in an old house that was built in the early 1900s off Green Street next to Arbuckle Acres Park. This beautiful historic home has been completely renovated into a beautiful restaurant. Driving in from the south on Green Street from the center of town, you can see the nice, large patio with ceiling fans that was a perfect setting the day I decided to stop for lunch.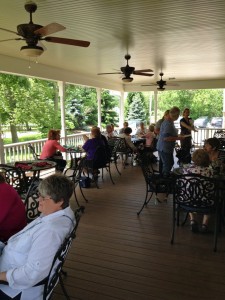 As I found a nice spot on their wonderful, outdoor patio, I felt as though I had traveled to the beautiful south as I enjoyed a nice refreshing lemonade. Savor Thyme features a diverse menu for lunch, dinner or Sunday brunch. With many delicious choices to chose from, it seemed as though no matter what I chose my lunch was going to be great. The lunch menu featured sandwiches, soups and salads hovering around the $8 mark. I did take a look at their dinner menu as well and found a number of upscale entrees featuring seafood and pastas, meat dishes and more around the $20 price point. They also have a kids menu. So, I may have to bring my entire family back for dinner sometime. I finally landed on the ultimate grilled cheese sandwich with a cup of fresh country tomato soup. This grilled cheese wasn't your mama's plain-Jane Kraft and Wonder Bread creation. This was full blown savory delight in every bite. The pressed panini on homemade bread featuring mustard, bacon, mayo and three different cheeses had all the right ingredients, and they were all very fresh. One of my favorite things about Savor Thyme Cafe is that they use local produce when available. My apologies to you for not snapping a photo of my awesome food. I really meant to share just a glimpse of how great it looked, but apparently I was a hungry savage and devoured all of its yumminess before getting a photo. Let my mistake just encourage you all the more to go and try this sandwich.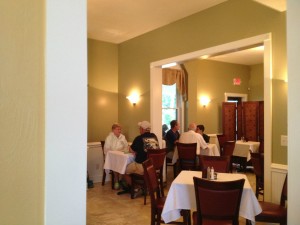 Not only was our food delicious but the service was friendly and attentive. The total experience was wonderful, and I can promise you that I will be back for more! Savor Thyme is located at 224 N. Green St., Brownsburg, Indiana. They serve lunch Tuesday-Sunday from 11 a.m.-2 p.m. Dinner is served Thursday-Saturday from 5-9 p.m. They also offer a Sunday brunch from 10 a.m.-2 p.m. Along with being a wonderful location for a meal, Savor Thyme also offers an array of
cooking classes
for those ranging from age 8-98. They offer youth classes as well as adult classes right in their restaurant. Be sure to visit their
website
for more information on upcoming classes. Why not take a break from the hustle and bustle, sit back and relax and enjoy a wonderful meal right in the heart of Brownsburg at Savor Thyme Cafe!