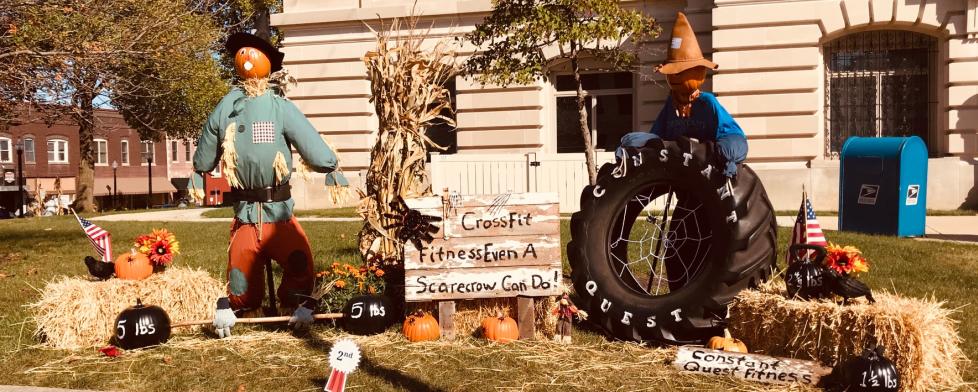 Every fall, my family and I enjoy finding a new, fun activity/event to celebrate our favorite season. We decided the scarecrow displays at the
Hendricks County Courthouse Square in Danville, Indiana, would be the perfect start to our fall excursions! This festive and unique annual display has become a tradition for many Hendricks County families. 
Handmade scarecrow displays surround the beautiful courthouse lawn all day, every day though Oct. 27. The Downtown Danville Partnership hosts this free, annual event that allows local businesses/civic organizations/families to show off their creative side! The various scarecrow displays include clever and/or humorous features that pertain to the business/organization, as well as, movie and pop culture themes.
My kiddos an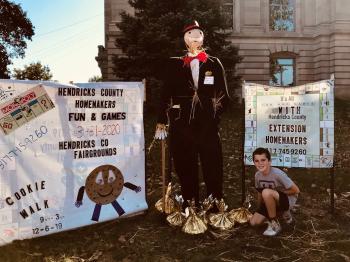 d two of their pals strolled around the courthouse with me and viewed the scarecrow displays this past weekend.
It was a busy day for us, but we had enough time to analyze the artistic features of each display and also take some cute pictures. Each of us picked our favorite, which was not an easy feat, as all them were interesting and creative!
The kiddos' top picks included the following themes: Wizard of Oz, Monopoly, and The Nutcracker (2 votes). After much contemplation,  I decided Red's Donuts display was my favorite. The scarecrow was dressed as a professional baker and little pumpkins were painted to look like donuts!
If you want to try some amazing real donuts, Red's Donuts is just across the street from the courthouse.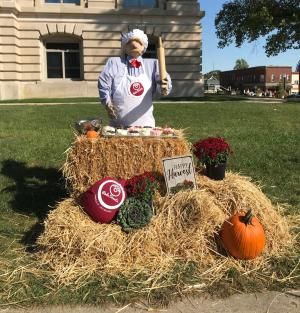 Our top choices certainly differed from the official judges' winners. With such a variety of amazing scarecrow displays, everyone is bound to have differing opinions. The judges' top 3 displays include:
1st place - Smokey Fireside Creations
2nd place - Constant Quest Crossfit
3rd place - Forget-Me-Nots
The Constant Quest Crossfit display is the main picture at the top of this post. It was my second favorite! Check out Smokey Fireside Creations and Forget Me Not displays and see for yourself if you think they deserved the judges' top picks. 
The scarecrow displays are a free, fun fall activity the whole family will enjoy. This unique event also showcases the beautiful grounds of the Hendricks County Courthouse and quaint atmosphere of downtown Danville.
After you have finished your scarecrow walking tour, grab a bite to eat at nearby Frank's Place or the Mayberry Cafe, peruse local shops or take the kids to Ellis Park. The popular Beasley's Orchard is also just a few miles away. 
Kick off the fall season with a trip to Danville and the Hendricks County Courthouse Square to view creative scarecrow displays. Make sure to take some pictures and tag them with #inHendricks if you post them to social media.