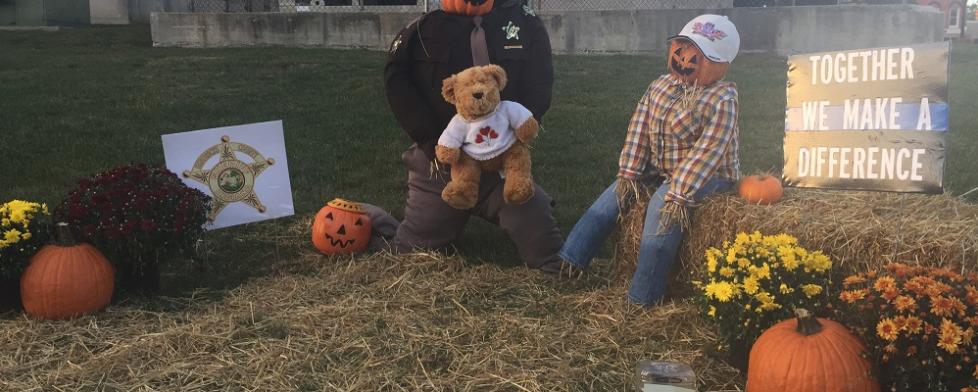 Mother nature seems to be confused about our current season, but take a stroll around the historic Hendricks County Courthouse Square for a festive reminder. It is fall after all, and this year's Scarecrow Display is sure to prove it.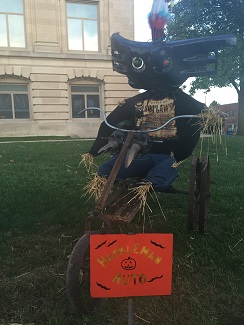 If you aren't familiar with this fall tradition in Danville, let me explain.
When I say "around the square," I mean exactly that, as these displays line every side of downtown Danville's courthouse lawn. This tradition has truly taken on a life of its own over the years as these creations continue to get better and better. Families, organizations, businesses and groups get to show their creativity by creating a display showcasing a scarecrow creation. These artistic, festive displays come in all shapes, styles and themes and are up for viewing through the month of October.
You'll find a coin container at each display that acts as their "voting booth." Each coin, regardless of value, equals one vote for the coveted "people's choice" award. Judges determine the winners of the family and business categories.
I couldn't wait to see this year's displays so as soon as I picked my daughter up from ballet, we took a walk around the square. We were a little biased, as her ballet studio had the cutest set of dancing scarecrows.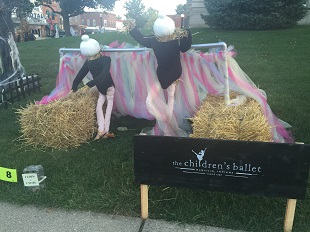 These little ballerina scarecrows are even following dress code - pink tights, plain black leotard and the high ballet bun.
This display is clearly labeled, but others will leave you wondering who came up with such a creative scene.
Some are cute, some are informative and some are simply hilarious, and they make great photo opportunities. Make sure you use the hashtag #inhendricks if you post any on Twitter.
As we made our way around the square, I couldn't help but feel a sense of adoration toward our small town and all it's charm. I was also impressed, as I know some of the participants have done this several times, and they don't seem to have much trouble coming up with elaborate displays. I'm doing good to get pumpkins and mums on the front porch before the first frost hits.
Spoiler Alert...I was most amused by the display of a local business that features a scarecrow using a walker, but their pumpkin head -- featuring a frowning face -- had fallen off. Who knew that a scarecrow contest would invite such clever advertisement?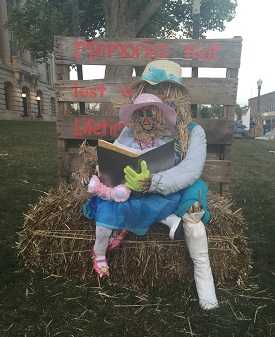 It's not unusual to see folks crossing U.S. 36 from the Mayberry Cafe to take a look at the scarecrows during the month of October. There are several other eateries and businesses in and around the square that you might want to check out while you're taking in the Scarecrow Display. 
Courthouse Grounds and The Beehive both offer a variety of coffees that would go nicely with your stroll around the displays. This heat wave won't put a damper on my pumpkin spice latte intake.
Pop by Confection Delights for a yummy, fall-inspired treat or enjoy an Italian meal at Frank's Place.
The Scarecrow Display is not just a contest, it's like a festive welcome mat that's been rolled out for anyone who stops by. 
I highly recommend setting aside some time this month to park your car and explore the square, its many shops and restaurants and of course the scarecrows. I love this time of year!  
Want to make it more of a day trip or weekend adventure? 
Click here to read about my previous post on fall fun offered at Beasley's Orchard, which is just a few miles down the road from the square. 
This also is the last weekend to enjoy this year's Heartland Apple Festival at Beasley's. Click here for all the details.
I hope to see you in Hendricks County this October.