The crows are coming to
Hendricks County, Indiana
! With the arrival of fall,
Downtown Danville
offers a fun, family-oriented way of scaring them off -- the 5th annual Scarecrow Festival on Saturday, Oct. 6 at the Courthouse Square.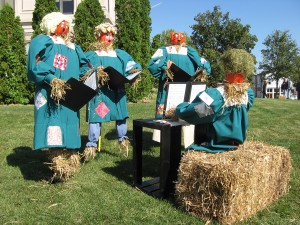 From noon to 3 p.m., the Scarecrow Festival offers free activities and entertainment to get us all into the fall spirit. It's an event that has become an annual tradition for me and my family -- one that's well worth checking out. The biggest draw to the festival is the scarecrows. Individuals and businesses carefully handcraft these straw-filled autumn icons, and on the morning of the festival, they're all set up around the Hendricks County Courthouse. The scarecrows are then reviewed by a panel of judges with prizes awarded for the top three entries in two different classes:  individual/family and business/organization. First place in each category comes with a trophy and a $100 prize. Second place in each category earns a cool $50, while third place brings in $25. If you, your family or your business or organization want to enter a scarecrow in the festival, it's not too late! There are some
specific rules
that must be followed, and each scarecrow requires a $5 entry fee, but the deadline isn't until Oct. 5, so there's still plenty of time to enter and try to win! I have never entered a scarecrow in the contest -- I have the artistic vision and creativity of a thumbtack -- but I
have
taken my family to the festival several times in the past to enjoy the artistic vision and creativity of others. From that side of the haystack, it's a lot of fun.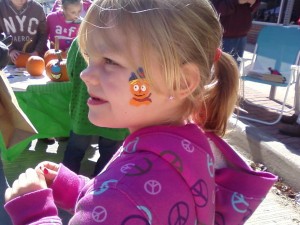 The first order of business for my daughters is to make a beeline for the face painting. I have no idea how they developed their love of
decorating their skin with artwork
...probably from their mother. At any rate, they thoroughly enjoy choosing from bats, skeletons, witches, pumpkins and a bunch of other options to have painted on their cheeks. The next stop for them is the balloon twister. They choose from a wide variety of animals and things -- swords, flowers, palm trees, etc. -- and then choose the colors of the balloons used for the creation of their choice. They usually wind up selecting some enormous balloon sculptures that I get the privilege of carrying around while they dart off to the next attraction. They love the games such as pumpkin bowling, decorating pumpkins with stickers, playing ring toss, coloring pictures, and on and on. While they enjoy themselves, my wife and I like to listen to the musical acts that perform throughout the day. So this truly is an event for the entire family. Whether you live here locally or are a visitor looking for a fun event, it is worth the drive.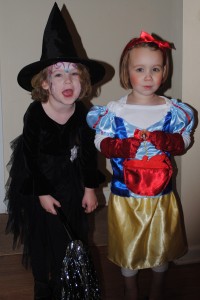 We also love the kids' costume contest, which is always adorable. At some point, I slip away and hunt for food. Local restaurants and vendors offer a number of eating options at the Scarecrow Festival. Last year, I enjoyed a delicious lunch from the
Diggity Gourmet Dawgs
stand. What these folks can do with a hot dog is amazing. A huge fan of reuben sandwiches, I had to try their reuben hot dog -- and it was fantastic! With a full belly from Diggity or any of the other multiple food vendors there, I then like to walk around the Square and look at the scarecrows. The ideas -- and the execution of those ideas -- always amaze me. I never seem to agree with the judges' choices, though, so I appreciate the unique way in which the public can vote for its favorite scarecrow. There will be ballot jars at each scarecrow, and a coin of any denomination can be dropped into the jar and counted as a vote. The scarecrows will collect coin votes from Oct. 6 until the People's Choice winner is announced on Oct. 26. And as an added benefit, all of those coins that are used as votes throughout most of the month of October go to a local food pantry. Very cool. Bring the kids to the Courthouse Square in 
Danville
 on Oct. 6 from noon to 3 p.m. and enjoy the Scarecrow Festival as we welcome the arrival of fall. Then be sure to fill up those ballot jars with coins to vote on your favorite scarecrow until Oct. 26!