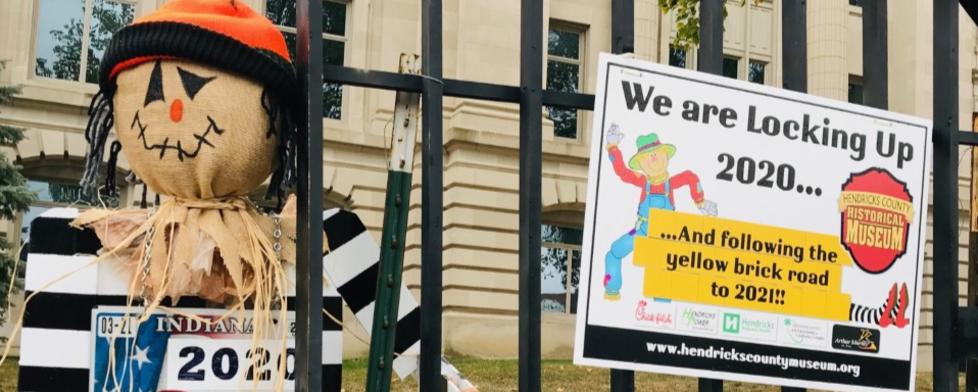 This year has many of us feeling a bit scared and fearful, but don't let that stop you from experiencing one of my favorite fall traditions in Danville! Scarecrows have arrived once again on the Courthouse Square, and this seasonal display offers the perfect opportunity for some socially-distanced fall fun.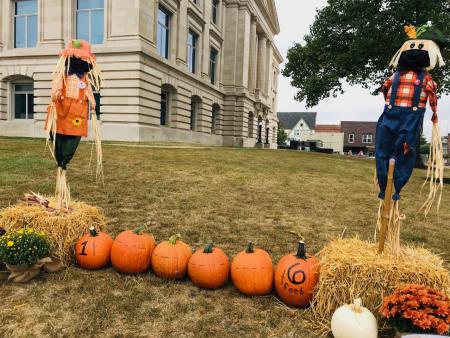 Every year the lawn around the Hendricks County Courthouse Square is adorned with creative scarecrow displays designed by local organizations and businesses. Presented by the Downtown Danville Partnership, the scarecrows arrived last weekend and will stick around until Oct. 24.
While many holiday festivities have been canceled this year, taking the family to peruse these outdoor scarecrow displays provides the perfect way to get everyone in a fall frame of mind. And did I mention, it's FREE?!
Here is a sneak peek at some of the imaginative scarecrow displays you'll see in Danville this year:
Putting the Scare in Scarecrow
Some of the displays opted for a frightful theme with Halloween looming just around the corner.
Nothing is scarier than taxes for many adults! But the Donovan CPAs scarecrow display will bring a smile to your face as their pumpkin-headed experts vow to take the fear out of tax season.
This year has been full of tricks, so I'm with the Hendricks County Historical Museum with their display of finding a way to lock up 2020…and we can all ease on down the road to 2021!
Kidding Around
Young or old, we could all use a few more treats this year. Several of the displays remind us of the joy of our childhood.
Both Boy Scout and Girl Scout troops went all out to show their love for camping with scarecrows sitting around a campfire, roasting marshmallows, fishing, kayaking and more.
While technically not a scarecrow, I also enjoyed seeing the Lightning McQueen made out of hay bales by Wright Realtors. It should be a hit with the youngsters and the car enthusiasts in your pit crew.
On a Mission
Several of this year's displays have a clear message and an important cause they want others to get behind.
The Sheltering Wings display reminds us that October is Domestic Violence Awareness Month. Take a selfie with this non-profit organization's scarecrow and post it on social media to help shed light on a critical issue.
With a big election right around the corner, The Republican Newspaper celebrates the Women's Vote Centennial and their scarecrow reminds us all to get out and vote.
Masking Up
Playing up on the hot topic for 2020, many of the scarecrows have masked up.
Prevent Child Abuse Indiana is not only highlighting their cause, but they also incorporated COVID-19 education into their scarecrow scene this year. Masked up and 6 feet of pumpkins apart, these scarecrows encourage everyone to get their flu shots.
Don't miss the Society for Creative Anachronism's display of Medieval Social Distancing. These fencing scarecrows properly demonstrate six feet of separation!
Winners
First, second, and third place prizes have been awarded for this year's scarecrow displays. But here's another trick…I'm not going to tell you which scarecrows took the top prize!
Treat your family to a fun outing and make your way to Danville to check them out for yourself. Feel free to comment below and let everyone know which scarecrow display topped your family's favorites list this year.
After you make a lap around the square to see all 21 scarecrow displays, warm up with hot chocolate at The Beehive or indulge in comfort food at Mayberry Cafe.
Then get a jump start on your holiday shopping at Forget-Me-Knots and Seize the Night Designs. Just remember to mask up…and have a fabulous fall y'all!