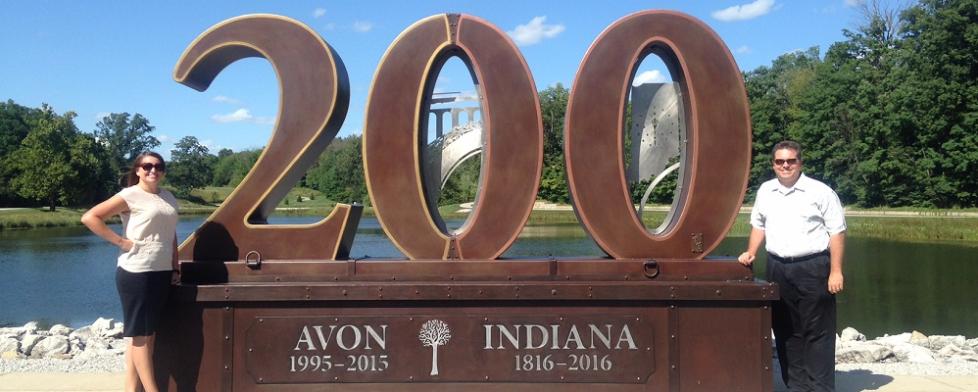 Are you the kind of person who stands in front of a modern sculpture with your forehead wrinkled and your lips pursed because you just don't get it? Yeah, me, too, although, perhaps that is just part of what sculptures are supposed to do – make us wonder about how it makes us feel.
As a former teacher, I know that children always try to "see something" in sculpture. You hear a lot of "it looks like a (fill in the blank)." But I have decided that we are just supposed to look at the piece and see the lines and forms and see how it makes us feel.
You can do that in Hendricks County, Indiana.
Two pieces retired from exhibition at the Indianapolis Museum of Art found their retirement home in the pastoral town of Danville in 2009. Holistic Image VIII, commonly and lovingly referred to locally as "Betty," sits in front of the Danville Town Hall at 49 N. Wayne St.
Betty Gold created the piece in 1980. Pictures just don't do this raw steel sculpture justice since you can't experience how immense the piece is – and how small it makes you feel. It is 16 feet tall and 16 feet wide at the base and weighs 8,000 pounds. Yes, that's 4 tons!  Every person who visits sees it in a different way – depending not only the direction from which they view it, but also on their own personal perspective that day.
A few steps to the east is Nimrod at 147 W. Main St. Smaller, but no less intriguing, Oded Halahmy's piece of abstract art changes faces as you circle it. Even nature seems to be making a comment with plays of sunlight.
If you prefer sculptures that leave less to the imagination, but are just as moving to the spirit, Hendricks County can accommodate you there, too.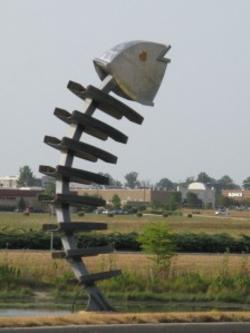 One of the most eye-catching is a big, bony fish. When I say big, I mean massive. It sits in the middle of a pond in front of what was originally the Galyan's Trading Company headquarters just east of The Shops at Perry Crossing at the intersection of Perry Road and Metropolis Parkway in Plainfield.
I love this fish, and I am so glad the creators didn't make it cheesy by having water spurt out of its mouth. It makes me feel like it is always watching over and protecting the mall. See, I told you sculptures can give you some different feelings.
To commemorate the state's Bicentennial celebration in 2016 and their town's own 20th anniversary, Avon commissioned the 200 sculpture, which is molded out of steel by local artist, Randall Flake. The piece took Flake about three months to create using arch welding, plasma and torch cutting in his garage.
Standing 10 feet high and 15 feet wide, the sculpture weighs about three tons and can be found behind Avon Town Hall, located on U.S. Hwy. 36 less than a half mile west of Ind. 267, next to the lake.
Hendricks Regional Health campuses are the sights of two beautiful bronze sculptures by artist, Gary Lee Price.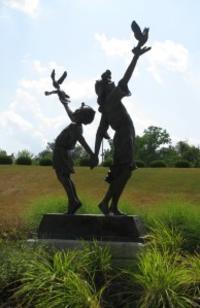 Children of Peace, sits almost hidden, on a slope falling away to an outdoor seating area on the west side of the hospital campus at 1000 E. Main St. in Danville. The boy and girl are caught in the middle of the act of releasing doves.
Together with the second sculpture, entitled New Seasons, that is inside the Hendricks Regional Health building at 8244 E. U.S. 36 (Rockville Rd.) just at the entrance to the Cancer Center, the pieces represent good things like hope, renewal and rebirth to the artist.
If you, or someone you love, has ever had to deal with serious health issues, you know how important those feelings can be. So these are the perfect settings for such uplifting pieces of art.
Another piece that touches the heart is the Angel of Hope.
Specifically erected as one of 73 angels throughout the nation, this angel sculpture is a special place for grieving parents who have lost children.
The Hendricks County Angel of Hope is located not far from the 200 sculpture described above on the west side of the lake behind Avon Town Hall.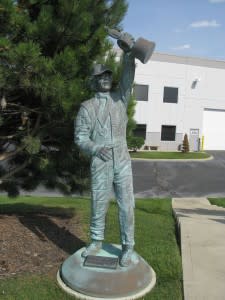 And since Indiana, and more locally, Brownsburg, is a hub of the racing industry in America, we can't forget the sculpture of Eric Medlen standing in front of the John Force Racing facility on Northfield Drive in Brownsburg.
The life-size bronze statue was commissioned by John Force from Storyland Studios of Lake Elsinore, Calif., after Medlen died March 23, 2007, during a drag racing test session in Gainesville, Fla., at the age of 33. The once-aspiring rodeo cowboy drove an NHRA Fuel Funny Car for John Force Racing from 2004 to the time of his death. His father, John Medlen, was his crew chief.
The sculpture stands to remind passersby of the spirit inside a racer's heart and those around him. It is optimism about the chance to win at the next event and the commitment to that – and living life like that, too.
Sculptures can lift up our hearts, make us ponder and remind of loss and the past. Most of all, they can touch us and make us think.
Take some time to visit all the sculptures in Hendricks County. Don't just drive by. Get out of your car and take a closer look. You might just be surprised with what you discover in yourself, too.