Looking for something to do next Saturday? You're in luck: Sat., Oct. 12 is a Second Saturday — a day when certain sites along the 
Rural Routes to Main Street Cultural Trail
 open their doors and offer special activities. Check out these sites, then mark your calendar on the second Saturday of each month to check out another!
Hendricks County Historical Museum, Danville, Ind.:
This public museum originally served as the Hendricks County Sheriff's Residence and Jail until it was turned into a museum in 1974. Learn about turn-of-the-century home life, agriculture, and military artifacts that date back to the Civil War. If you've visited before, this is a great time to return to see what's changed after last winter's renovations,
as Eric and his daughter found
. The jail with its mid-evil like appearance is also a great spooky place to visit this time of year. 
Open 11 a.m. to 3 p.m. Saturdays and during the week by appointment.
Pittsboro One Room School, Pittsboro, Ind.:
Curious about what it was like to be a student in 1892? The Pittsboro One Room School is the place for you. This living-history museum is truly unique, and you'll leave the modern world behind as soon as you step inside. Doris Martin, one of the site's volunteer schoolmarms,
shared some insider facts with Aimee earlier this year
.
Open 11 a.m. to 3 p.m. on the Second Saturday of each month.
Sally Ann's Ceramics, Pittsboro:
Want to make something unique? Stop by Sally Ann's Ceramics, where you can find multi-level classes in clay and glass — and a warm, welcoming, creative atmosphere (
as I personally found!
).
Open 10 a.m. to 3 p.m. Saturdays.
Monrovia Mudworks, Mooresville, Ind.:
This pottery studio and gallery gives you the chance to buy and make your own art. Jennifer stopped by earlier this year and
shared her experience
.
Open 10 a.m. to 3 p.m. Saturdays.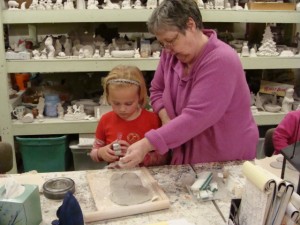 Ateliers, Martinsville, Ind.:
Now that you've kindled your inner artist, check out Ateliers, a relatively new addition to the Rural Routes to Main Street Cultural Trail. This art gallery and studio offers group workshops (also with wine tastings), classes, and private lessons. Stop by and shop for art and jewelry, or to
see a student at work
.
Open 10 a.m. to 3 p.m. Saturdays.
Academy of Hoosier Heritage, Mooresville.:
Connect with Hoosier heritage at the Academy in Mooresville. Built in 1861, this museum and one-room school
will take you back to the 1800s
.
Open 11 a.m. to 3 p.m. on the Second Saturday of each month.
Hot Blown Glass Ltd., Clayton, Ind.:
Finally, I highly recommend you make a trip to Hot Blown Glass, where artist Lisa Pelo turns molten glass into stunning art and functional pieces. You can see her and her students at work, or even take a class yourself.
I found my visit there enthralling.
Open 11 a.m. to 3 p.m. on Second Saturdays.
Enjoy your adventure, then be sure to come back and tell us how you liked it in the comments below!