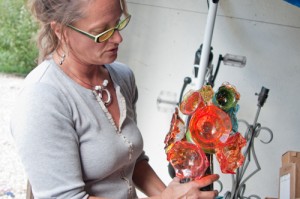 Just south of Cartersburg Road between Danville and Plainfield, Ind. in
Hendricks County
, marked with a simple white sign by the road, you can find one of the most unique, hands-on art studios in the state:
Hot Blown Glass
. Glass artist Lisa F. Pelo first got hooked on glass art in college, and she is now a full-time artist who has exhibited work all over the Midwest. At her studio in Clayton, she operates a hot shop, where hot glass is blown, pulled and shaped, and a cold studio, where grinding, polishing, and drilling is done to finish a piece.
See glass art made in person during Second Saturdays

As part of the
Rural Routes to Main Street
Second Saturdays schedule, Hot Blown Glass is open to the public from 10:00 a.m. to 3:00 p.m. on the second Saturday of each month. Lisa's hot shop is one of very few of its kind in the state of Indiana, and after seeing glass-blowing many times on TV, I was excited to see this done in person. It was just as fascinating as I'd hoped. In a matter of minutes, three artists turned glowing globs of glass—pulled from a furnace heated to 2,100°F—into one-of-a-kind blown-glass vessels. Next door, in her cold studio, Lisa had ornaments, paperweights, vases, bowls, and light fixtures on display, commissioned and ready to go to their final owners or shipped out to galleries and stores around the state.
Try it yourself: Glass workshops offered throughout the fall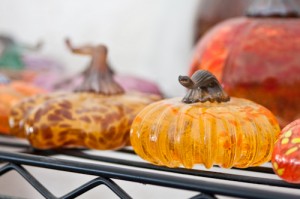 The best news? Lisa has a calendar full of workshops and classes in which you can try your hand at glass art. Workshops are two-hour sessions and don't require any previous experience. In Lisa's fall workshops, you can make pumpkin paperweights, fall-color paperweights, glass flowers, and even glass leaves. For those interested in taking their glass art to the next level, Lisa offers 6- and 12-week classes. The
full schedule
can be found on the
Hot Blown Glass website
, but here are some workshop highlights coming up this fall:
Sun., Sept. 23: NonPopUp Workshop in Glass—make a glass pumpkin paperweight or glass flower
Sat., Oct. 13: Second Saturday, including Funtime Workshop—make a glass pumpkin paperweight or glass flower
Sun., Oct. 14; Sun., Oct. 28; and Sat., Nov. 17: Pumpkins Galore Workshop—make your own pumpkin patch
Sat., Nov. 10: Second Saturday, stop by between 10:00 a.m. and 3:00 p.m. to see the studio
Sun., Nov. 11 and Sun., Nov. 18: Trap the Essence of Fall Workshop—make a hand-formed paperweight and glass leaf
Five sites open to the public during Second Saturdays
Hot Blown Glass
is just one of five Hendricks County gems open to the public during Second Saturdays. Last month, I went to
Sally Ann's Ceramics
in Pittsboro, where you can make your own pottery, paint ceramics, and even make jewelry. Also part of Second Saturdays are the Hendricks County Historical Museum, Pittsboro One-Room School, and Whispering Pines Designs Rug-Hooking Studio. Learn more and plan your visits on the
Rural Routes to Main Street website
.
Have you visited one of these great places yet? Tell us about your trip in the comments section below.