The arts and culture scene is thriving in
Hendricks County
. Since the Rural Routes to Main Street Cultural Trail officially launched in 2010, it has been such a success that it extended earlier this year to include special opportunities on the
second Saturday
of each month.
Rural Routes to Main Street
is a self-paced, self-directed driving tour of some of the finest cultural locations in Hendricks County. Along this cultural trail, you'll find fine arts, handmade crafts, value-added foods and products, historical attractions and agricultural businesses. With
Second Saturdays
, you can visit
five extra sites
that aren't ordinarily open to the public.
I couldn't wait to start visiting myself! I started this month with a trip to
Sally Ann's Ceramics
in Pittsboro, Ind. While the shop focuses on ceramics, Sally Suiter and her team of instructors are also skilled in a number of other handmade crafts — you're sure to find something that interests you. From "muddy" clay sculpting and ceramic glazing to handmade jewelry, wire wrapping and fusing glass, people of all ages can try a new, hands-on activity and maybe discover a new passion.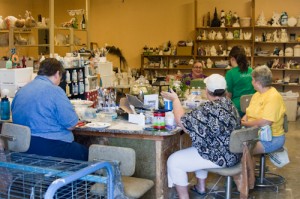 A group of women greeted me when I arrived, and even though they've been creating pieces at Sally's for years (decades, even), they instantly made this newcomer feel welcome and at home. After hearing the list of options, I chose to try my hand at creating a fused-glass
cabochon
 that would become a one-of-a-kind necklace pendant. Julie Stanley, my personal teacher for the day, made a fused-glass piece alongside me, and another of Sally's devotees gamely jumped in and said she'd make one with us, too.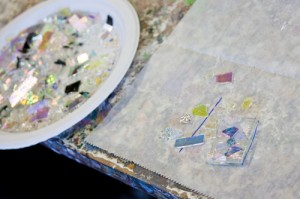 Also at the shop that day was Jenna, a 16-year-old local student who has been coming to Sally Ann's Ceramics since her first year in Mini 4-H as a first-grader. She showed me some of her completed pieces — hand-sculpted and painted clay owls — and other works in progress.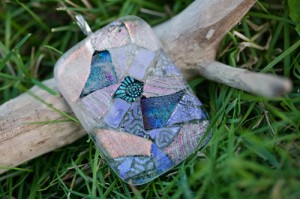 I'm hooked, to say the least. This Second Saturday visit introduced me to a local gem that inspired me, gave me an opportunity to try my hands at many new crafts, and made me feel at home. I can't wait to go back — and I'm looking forward to visiting another Second Saturday site soon! Start planning your trip on the
Rural Routes to Main Street website
. The next Second Saturday event will be Sept. 8. Be sure to check out Sally Ann's Ceramics and the other four Second Saturday destinations:
See you on the trail!