Ribs and a performance from Jennie DeVoe — how could I turn down a visit to the
Hendricks County Rib-Fest
in Avon, Indiana.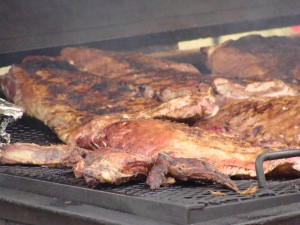 I love ribs and have been a fan of Jennie DeVoe for years. So, this event provided a great way for me and my family to kick off our 4th of July week.
The Hendricks County Rib-Fest was in a new location this year.  After seven years at the Washington Township Park in Avon, the festival moved to the grounds of Kingsway Christian Church to accommodate more vendors and visitors. Leading up to the Rib-Fest, I was concerned about the heat this year. But luckily it cooled down a little and ended up being a nice night. Usually fireworks wrap up the evening, but because of the dry conditions, they were canceled this year.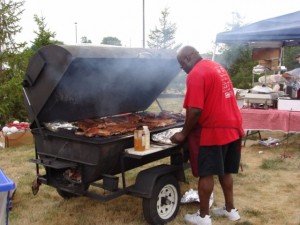 Getting to the festival was easy. We got right in the parking lot and there were many traffic guards helping us to a spot.  As soon as we got out of the car, we could smell the aroma of ribs on the grill. As we walked into the festival, we were greeted by the main attraction, the barbecue vendors. Even though I wanted to grab ribs right away, we explored the rest of the festival first.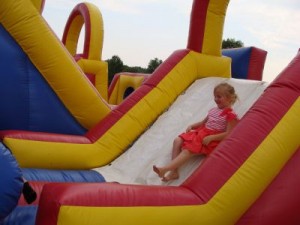 My daughter immediately spotted the inflatable slide. So, of course we had to head there first. We then continued over to the kids area for some fun games. As our daughter played games, we heard Jennie DeVoe take the stage. She was fantastic as always. On our way back to grab ribs, we passed the tents offering, strawberry shortcake, elephant ears, snow cones and more. If you don't like barbecue, there were plenty of other options. Some of the offerings included hot dogs, macaroni and cheese and salad. I enjoyed ribs and a salad; my daughter went for the macaroni and cheese; and my husband had pulled pork. We all enjoyed our meals.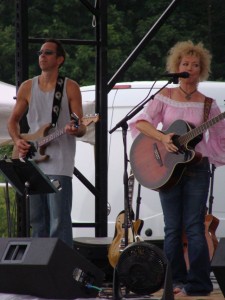 There was no admission charge, only a $5 per car parking fee. The food was reasonably priced, and much better than many other festivals I have attended. If you love ribs and live entertainment, save the date for next year. Each year, The
Avon Chamber of Commerce
hosts the Rib-Fest the Saturday before the 4th of July. If you missed the Hendricks County Rib-Fest, there are still many special events this week. For more information, check out my post about
Hendricks County Independence Day events.