If you're anything like me, you're still tweaking your Christmas decor and, unfortunately, you haven't yet finished your shopping. I recently stumbled upon a treasure of a furniture and decor boutique that will help you with your to-do list.
Seek and Find in Brownsburg offers an incredible variety of repurposed furniture, decor, local artwork and clothing. The displays are absolutely stunning. You're sure to leave with endless decorating ideas and all the perfect gifts.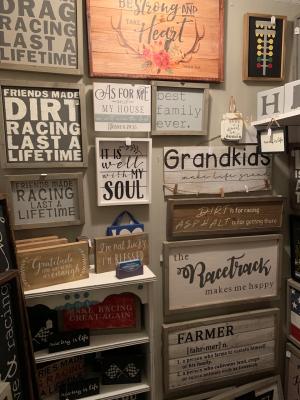 I met the owner, Tia, and she explained that her original boutique was housed in a fairly small commercial space in Avon and the move to the two-story renovated house opened up a wealth of opportunity for creating the gorgeous, elaborate displays the boutique currently offers. 
I spent at least a half hour wandering the shop and taking in all the displays, but could have easily spent twice as much time there. With displays and inventory constantly changing, you're sure to find something new each time you visit.
What You'll Find
As soon as you pull into the drive at 3750 S. Green Street, Brownsburg, you'll find the wrap-around porch adorned with antiques and repurposed furniture and decor.
When you enter the boutique, you'll find the two front rooms decorated from floor to ceiling with beautiful furniture, decor and local artwork. Given the season, both rooms where like a magical Christmas village, exactly as I want my own home to look for the holidays. Garland swags, buffalo checkers, perfect plaids and every wood sign you've ever wanted.
It was magical.
It's easy to be impressed by the amount of beautiful pieces, but the prices were equally surprising. I found several tall, turned wood candle holders for well under the price of those sold at chain retailers. While I wasn't shopping for anything specific, I left with a lot of inspiration and a few great finds. 
I wandered upstairs to find the "booths" of local artists and vendors. Vintage flannels, boutique clothing and accessories, antiques, wood signs and even more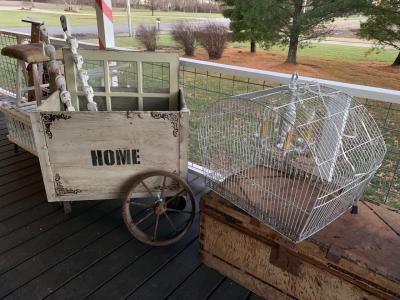 decor. I found a wood sign that will be the perfect gift for a dear friend. 
While I was busy shopping the incredible handiwork and artwork of Tia and company, I was happy to find that they also sell a variety of paints to help you with your own repurposing projects and creations.
If you're looking for decor and furniture - both big and small - or just some inspiration, you need to stop in and see what they have to offer at Seek and Find for yourself. Clothing, antiques and great decor all beautifully displayed makes shopping a fun outing, not a task. Call your girlfriends and visit soon.  
Seek and Find Furniture and Home Decor
Address: 3750 S. Green St., Brownsburg
Contact and Info: (317) 473-2845 and on Facebook
Store Hours: 10am-6pm, Monday-Saturday and 10am-4pm, Sunday