Editor's Note: Unfortunately, the Danville Trading Post closed its retail operation in July 2014.
I don't know what's gotten into me lately. I blame it on winter. I have somehow found myself frequenting antique and vintage shops in and around Hendricks County on a regular basis, with my latest adventure at the
Danville Trading Post
in
Danville, Ind.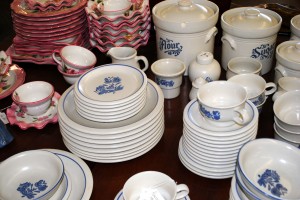 It started in December when
Visit Hendricks County
sent me on their
Ho Ho Holiday FAM Tour
, and I wound up in Martinsville, Ind.'s
Berries & Ivy Country Store
and then in
Mooresville Open Market Antiques
. For a guy who hates shopping, I found both of those stores to be surprisingly interesting. Then when I was on the
Downtown Danville Chocolate Walk
, I stumbled upon
Outta the Shed
on the historic Hendricks County Courthouse Square and found myself enjoying 
that 
antique/vintage shop, too. Maybe it's because I desperately need a change of scenery after staring at the inside of my house since ... oh ... 1843, or whenever this endless winter arrived. After I wrote about
10 Best-Kept Secrets in Hendricks County
 recently, a reader suggested that I check out the Danville Trading Post. Not wanting to disappoint my one and only fan, I stopped in at the antique and vintage shop that has been open at 170 Old Farm Road in Danville for about 15 months.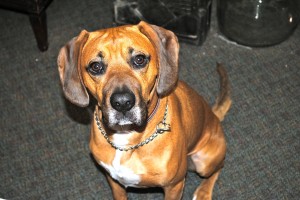 As I walked in, I was immediately greeted by the ferocious, snarling, slobbering shop owner, Lego. (Okay, so maybe Lego isn't ferocious. Perhaps he was neither snarling or slobbering, and it's possible that he's the store
mascot
, rather than the owner. But it's a more colorful story the way I tell it.) After Lego and I made our acquaintances, he referred me to his human counterpart, Josh Jones, who chuckled that Lego is so popular with customers that he has his own fan base. Josh explained to me that after growing up in Danville, he worked at a concrete factory in Maryland for a few years and then decided to return to his hometown to be closer to his family. He said he has always liked old stuff and he enjoys bartering, so it only made sense for him to open his own business that encompasses both of his passions.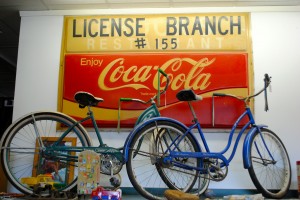 The Danville Trading Post is a big store that is full of all kinds of neat antiques and vintage items. It's set up in a way that flows nicely without making shoppers feel claustrophobic. Josh gets most of his inventory from people who just want "junk" out of their house. Josh recognizes the value in the pieces and sells the items on consignment. The previous owners make space in their homes and earn some pocket cash. It's a win for everyone, all the way around, and it ensures that the variety of items at the Danville Trading Post changes frequently. He also rents booth space, plus he sells items for people on eBay. In a nutshell, if you have a vintage item or antique that you think has some value, take it to the Danville Trading Post and talk to Josh.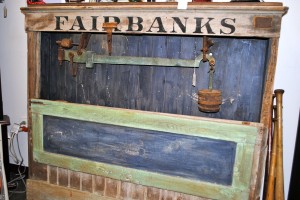 As I had questions about items in the store, Josh had all the answers, showing remarkable knowledge of his inventory, especially considering how frequently items come and go. He's an accomplished conversationalist who also knows how to give people the space they need to look around. The overall feel of the Danville Trading Post can easily be described as "comfortable." I took pictures of some items in particular that I'm not going to share with you because I don't want you to buy them out from under me before I have a chance to return to the Danville Trading Post with my wife. As I left, I told Lego to keep an eye on those items for me and to snarl and slobber and look ferocious if anyone goes near them. He said he'll do his best.
Danville Trading Post
170 Old Farm Road, Danville, IN  46122
(317) 745-5737
Open Wednesdays through Saturdays from 11 a.m. to 7 p.m. and Sundays from 1 to 5 p.m.