Editor's Note: Brown Skin Coffee is temporarily closed
Whether I'm traveling or just hanging out around Hendricks County, Indiana, I love trying out unique locally-owned coffee shops. And I'm not even a coffee drinker! Before all you java enthusiasts write me off, please hear me out, as I've visited some pretty amazing coffee joints all around the globe.
Whether your beverage of choice is coffee, tea OR wine, you are going to want to pay a visit to Brown Skin Coffee. And I've got the full scoop on Brownsburg's newest hotspot!
Shana Tate is a busy wife and mom with an appreciation and knowledge for great coffee. While operating a mobile coffee car, some good old-fashioned networking led her to downtown Brownsburg where she opened her storefront coffee shop in June 2022 in the new downtown area on Green Street to much community fanfare. 
I was one among many in my community who were excited to patronize Tate's new business and find out just what Brown Skin Coffee has to offer.
Sip
If you are in need of a caffeine fix, whether in the morning, afternoon or evening, Brown Skin Coffee has you covered. Consider trying the brown sugar ice coffee or maybe a lavender matcha.
A variety of coffees from around the world are offered, so true coffee aficionados can taste their way through every hot and iced option. According to Tate, you can experience a different culture through every cup. You can also purchase bags of coffee to take home and brew.
Tate's brews are all single-origin coffee, no blends here. And if you are wondering about the shop's unique name, it's all about the coffee bean. Tate informed this coffee novice that no matter where in the world the coffee bean comes from, the one thing they all have in common is their brown skin.
I was happy to increase my coffee knowledge, but since I'm partial to tea, I opted for the chai tea latte during my first visit to Brown Skin Coffee. 
With the helpful suggestion from the barista, I enjoyed my chai tea latte made with oat milk, and I loved this unique twist to my traditional drink of choice.  Next time, I think I will have it made with almond milk just to do my own taste test. On second thought, I'm having wine on my next visit. The wine smoothies looked especially refreshing!
Savor
While it may be the caffeinated beverages that bring many people into Brown Skin Coffee, I encourage you not to leave without also indulging in a sweet or savory treat.
The bakery case will entice you with an array of supersized temptations that will challenge your willpower. I say indulge!
The shop also offers breakfast sandwiches, acai bowls, hand-scooped ice cream, local honey and more delectable options to pair with your hot or cold beverage of choice.
It was not an easy decision for me between the lemon cake, cinnamon rolls, cupcakes and other delicious-looking pastries. But in the end, I couldn't resist the flaky croissant drizzled with chocolate sauce. It paired beautifully with my chai tea latte. I was a sticky mess after engulfing my croissant, but it was so worth it!
Stay Updated!
Sign up to receive the Weekly Insider or Monthly Planner newsletters for events, things to do, discounts, insider info and more!
Sit
Of course, quality eats and drinks are key, but the true test of any good coffee shop that is worth making repeat visits to is the vibe. I found the vibe at Brown Skin Coffee to be extremely welcoming and comfortable for all, and I loved witnessing multiple generations all feeling at home in the same space.
The long narrow shop is tastefully decorated with art from local artists that is for sale.  Brown Skin Coffee offers a variety of comfy seating options both inside and out.
Sit out front and enjoy the buzz of Brownsburg on a warm evening as you sip a glass of wine. Or plug in your laptop and take advantage of the free Wi-Fi as you work remotely with plenty of caffeinated beverages to keep you going all day.
If you enjoy live jazz music be sure to pop in for Wine Down Wednesdays. Or stop in on Thursday evenings for a speakeasy vibe and listen to local poets and authors share their craft while you sip and savor.
Socialize
It was apparent to me that I'm not the only one who has found Brown Skin Coffee to be a welcoming environment. While I went in solo and my first visit only lasted a little over an hour, I was delighted to see numerous customers pop in for a beverage and linger.
I saw teenagers laughing, talking and sharing fancy beverages between intently looking at their electronic devices. I witnessed friends meeting up and sharing fond embraces and giggles over wine smoothies. I encountered friendly staff offering menu suggestions for those not quite sure what taste sensation they were in the mood for.
While I recommend everyone come into Brown Skin Coffee to check it out for themselves, you can also bring their quality eats and drinks to your location with Tate's catering options.
Now that I've made my inaugural visit to Brown Skin Coffee, you can bet I'll become a regular. So if you see me intently typing away on my laptop feel free to say hi, grab a cup of joe and join me!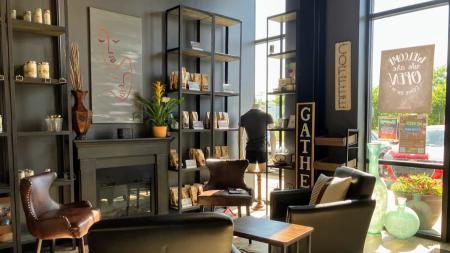 Shop Details
Brown Skin Coffee
5724 N. Green St. Suite 130
Brownsburg, IN 46112
Website
Hours: 6 a.m. - 9 p.m. Monday through Saturday; 6 a.m. - 6 p.m. on Sundays