Lucas Oil Raceway
in
Brownsburg, Indiana
, will be home to a different kind of car show over Father's Day weekend when a one-of-a-kind lifestyle event comes to
Hendricks County
. If dear ol' Dad likes cars and music, the 
Slamology Automotive & Music Festival
 is where to take him on June 15-16.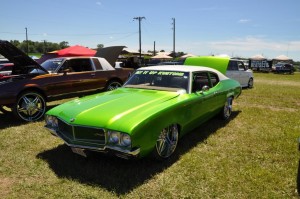 Every year, thousands of customized vehicles converge on Lucas Oil Raceway in an enormous family-friendly display of creativity, ingenuity and individuality. This year's event will be Slamology's tenth, and they have a huge lineup of contests and events on tap. There's a
car audio contest
where custom audio systems blast at ridiculous -- even record-breaking -- levels. There's a
car and truck hydraulic show
where vehicles jump and bounce and, on occasion, break stuff. There are awards given out for best paint, best interior, best engine, best engineered and longest distance traveled, as well as special awards presented by vendors and sponsors. The ultimate award -- best of show -- comes with a custom laser-cut heavyweight belt as a prize.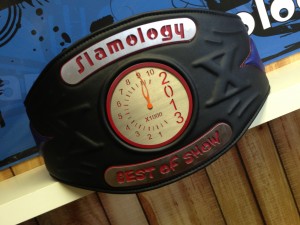 On the music side of the festival is an impressive lineup of live performers. Saturday's headliner is rock/metal band
Pragmatic
, and they're surrounded by such talent as 80's funk group
Circle City Band
, rock/blues/jazz/ hip/fusion band
The Big Hip
 and country group
Whitney Erin & Buffalo Creek
. Sunday's musical lineup is headlined by blues/folk band
Tied to Tigers
and includes performances by hard rockers
Defined by Fate
 and little-bit-of-everything band
Audiodacity
. Bring an extra set of clothes to Slamology if you plan to tackle the
Solar Tsunami
-- Indiana's tallest waterslide. It stands 30 feet tall and 65 feet long, giving its riders both an adrenaline rush and a break from the heat. There's a
bikini contest
, a Tattoo City Underground
tattoo and piercing contest
, a ton of
vendors
to check out and more. Sometimes words don't do it justice, so take a look at some of the highlights from the 2012 Slamology. [youtube]http://youtu.be/5k5_B0oUoxU[/youtube] All of it comes to a screeching halt at noon on Saturday, though, when Slamology hosts the
Indiana Blue Star Salute
's
Ride for the Salute
motorcycle ride, which involves a whole bunch of motorcycles, skydivers, military helicopters, Indianapolis Colts cheerleaders and more.
Click here
to read more about it. Whether you're looking for something unique to do with your dad (or dads, with your kids) over Father's Day weekend, you want to salute the U.S. military and its families, or you have an interest in checking out a vast realm of unique automobiles, body art and music, come visit Hendricks County for the 10th annual Slamology. It'll be an event you won't forget.
Slamology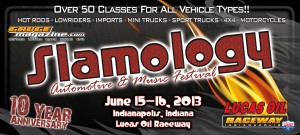 Saturday, June 15 and Sunday, June 16
Lucas Oil Raceway. Click here for directions.
Spectator gates open at 9 a.m. each day and stay open until 7 p.m. on Saturday and 6 p.m. on Sunday
Admission is $10 per day or $15 for both days
Kids 10 and under are free!