I have found myself spending quite a bit of time recently in the small town of Coatesville, right off of Ind. 75 in the southwestern corner of Hendricks County. My daughter plays for a travel softball team that practices there, and my employer is feverishly working on paving and adding many amenities to the Vandalia Trail, which runs right through Coatesville.
One evening, after dropping my daughter off at practice, I walked around Coatesville and discovered O'Knappy's Kitchen at 8026 Main St. Noting that it's open for breakfast and lunch, I made a point of returning another day to try it out. I'm glad I did.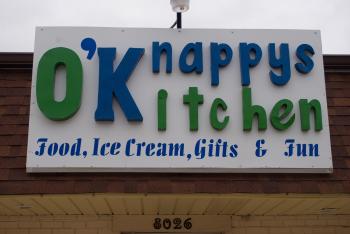 I would compare walking into O'Knappy's Kitchen to the small-town diners you see in the movies. People sit at tables, talking with one another, as well as with people from other tables. The topics of conversation that I heard floating around the diner included plans for harvest, how to get a vehicle running properly and where the fishing is good around these parts.
Occasionally, the waitress would call out one of the customers by name and ask if he needed his coffee topped off. One man walked in, and she immediately knew to check if she had a tenderloin left to make for him.
"He orders the same thing every time," she chuckled to me. "Tenderloin with everything on it but the dishrag."
Sounded good to me, so I ordered one, too.
O'Knappy's was bustling while I was there, the waitress was a one-woman show, and there were a couple of orders ahead of mine, so while she worked in the kitchen, I had plenty of time to look around the diner while I pondered why the waitress looked so familiar to me.
All around the diner, there are hand-crafted items -- works of art, decor, knick-knacks, signs, jewelry, gifts and more -- that are available for purchase. It's not a common decorating theme for diners, but I liked it. It gave me a lot to look at while I waited for my meal.
It actually reminded me of a Coatesville shop that I visited a few years ago called Enchanted Journey. That store was located just a couple doors down from O'Knappy's, and it was owned by Lorri Knapp and....... Wait a minute.......
It finally clicked. O'Knappy's. Lorri Knapp. Hand-crafted items. Two doors down. My waitress was Lorri!
Apparently, she was going through the same mental process because when she brought my lunch out to me, she remembered my name, my visit to Enchanted Journey nearly three years ago and even my daughters who were with me that day.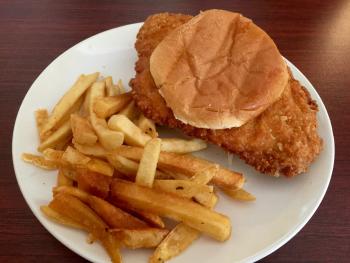 As I chatted with Lorri, I learned that she opened O'Knappy's last November when the space in the building became available. With prior work experience at Mayberry Cafe in Danville under her belt, she decided to open a diner and move her Enchanted Journey inventory into the same location. It has been a success -- to the point where she's starting to seriously consider hiring some help.
I can see why it's a success. My tenderloin sandwich was excellent. It was tender and flavorful, cooked to order, and surrounded by delicious fries. It must be a popular choice, since Lorri only had one tenderloin left after making one for her regular customer with everything on it but the dishrag.
In addition to tenderloins, Lorri serves burgers, hot dogs, sandwiches, wraps, salads and even offers a kids' menu during lunch hours (11 a.m. to 3 p.m.). Finish your meal with some hand-dipped ice cream or any of the pastries that Lorri offers that day.
During breakfast hours (7 to 11 a.m.), you can get just about any combination of eggs, breakfast meats and pancakes that you could dream of. She also has biscuits and gravy, hash browns, fruit cups and a kids' breakfast.
O'Knappy's Kitchen's low prices allow you to fill your belly without emptying your wallet, and you just can't beat the relaxed, friendly atmosphere.
Whether you're in Coatesville to do some shopping at Fleurs de Beausoleil or to take in the fall foliage along the recently-paved Vandalia Trail, or you're just out exploring Hendricks County, be sure to stop in at O'Knappy's Kitchen for some breakfast, lunch, ice cream or gifts!
O'Knappy's Kitchen
(765) 209-1663
Open Tuesdays through Sundays, 7 a.m. to 3 p.m.
Breakfast hours: 7 to 11 a.m.
Lunch hours: 11 a.m. to 3 p.m.
Major credit cards accepted