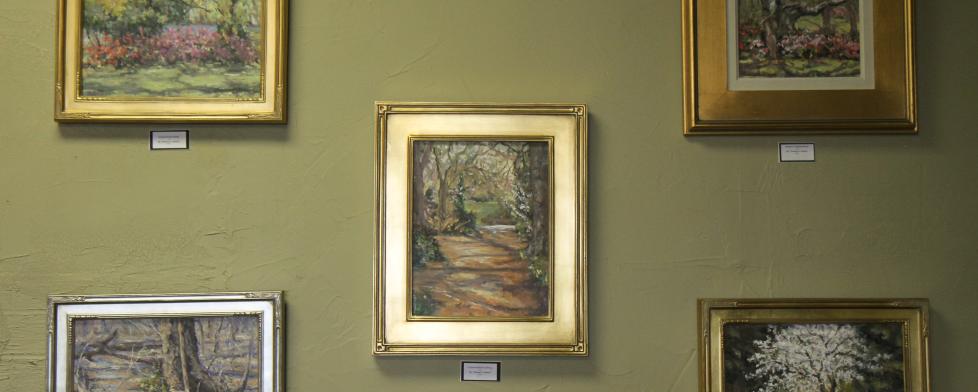 Whether it's a retail store, restaurant, or organization, I'm always thrilled when I find a hidden gem in my community.
I've driven by Artistic Designs Gallery many times, but I've never taken the time to stop in. The other day, I decided to check out the 3rd Annual Invitational Small Works Fine Art Show, and I was blown away by everything Artistic Designs Gallery has to offer.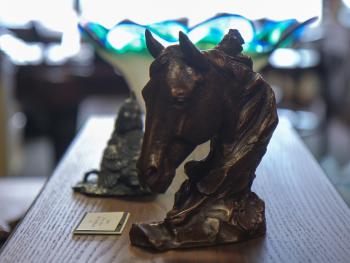 As I entered the building, I saw hundreds of beautiful frame samples lining the walls. There was a stand that held a variety of different paintbrushes and art supplies, and local art for sale like handmade scarves and glass flowers were scattered throughout the room.
The owner, Laura Tesdahl, greeted me and was happy to show me to the back where all of the pieces that belong to the Small Works Fine Art Show were on display. Hand colored engravings, watercolor landscapes, wildlife paintings and botanical drawings were all hung on the walls, and equestrian and wildlife sculptures were on display in the middle of the room.
I took a few minutes to browse, and Laura explained the different techniques used by the artists. Some of my favorite paintings were the "plein air" oil paintings by Brownsburg artist Thomas A. Himsel. Laura explained to me that plein air is a French expression that means "open air." Plein air paintings are painted on location outdoors and capture the essence of the light and atmosphere.
Himsel's most recent works were captured at Duke Gardens in North Carolina. Other local artists in the show include Luke Buck, Kathy Blankenheim, and Mark Kelso. The artwork by these artists will be on display through May 21. The gallery is open 10 a.m.-7 p.m. Tuesdays and Thursdays, 10 a.m.-5 p.m. Wednesdays and Fridays, and 10 a.m.-4 p.m. Sundays at Artistic Designs Gallery, 1038 E. Main St., Brownsburg.
I'm also excited to go to the Miniature Fine Arts Show that will run from July 27-Aug. 23 at Artistic Designs Gallery. Miniature fine art is defined as fine art on a small scale with minute attention to detail. Some of these pieces are currently on display in the gallery and they are truly remarkable.
In addition to the beautiful artwork on display in the gallery, Laura told me Artistic Designs Gallery also offers classes and workshops taught by local artists, as well as custom-framing services. Laura showed me a recent example of a custom-framing project that showcased some pieces from an antique barn. It was beautifully done.
Artistic Designs Gallery is just one stop on the Rural Routes to Main Street Cultural Trail. After seeing this gallery, I'm definitely going to make an effort to check out the other stops, too!