Gorgeous cars and trucks, classics and newer models, hot-rods and muscle cars all stream into Danville the first Friday of every month for Danville's
First Friday Cruise-In
. It's a fun night, and one thing my husband Erik and I can actually agree on doing together.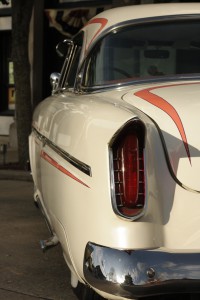 With three kids demanding constant attention, Erik and I leap on every opportunity to get out on our own. For this purpose, we're glad to have a teenager to watch the younger ones. In the summertime, we make an extra effort to have a regular date night, and the First Friday Cruise-In on Danville's square always presents the perfect opportunity. For us, it's right down the street, we have friends that bring their cars every month, and the nicest part? It's free. My husband is a car guy. He loves to go every month and see the old cars that have been fixed up. As we walk along the square, he'll point out every car and tell me what it is, and with a few exceptions I quickly forget. So every month it's like I'm learning it all anew.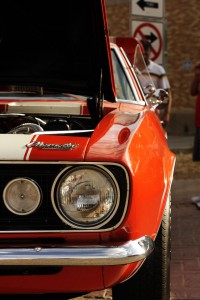 I'm the photographer in the family, and I love the smooth lines and shiny chrome that always appears ready for a shot. You'll often find me crouched down in front of a car in search of the perfect angle. Many cars make an appearance every month with the owners congregating like old friends near their vehicles. It's fun to talk to them and learn about their prized possessions, and the amount of work it takes to get them show ready. In many cases, we're talking years of work, searching for the right part to restore the car just how they want.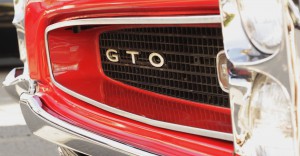 We've seen everything from my husband's two favorites, Mustangs and GTO's, to my favorite, the Camaro, and even a Beetle — and everything in between; cars, trucks and there's even been a tractor. So every first Friday during the summer, we head to the square to wander and have some quiet time away from the chaos. We dream of having one of the cars on display, we each get our own bit of enjoyment from the evening, we listen to (or, in my case, sing along to) the music playing, and just spend time together.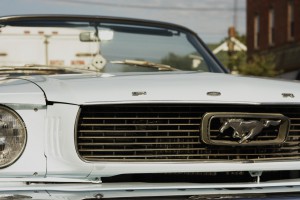 It's a fun night filled with beauty and power, where we catch up with friends and each other. Yes, sometimes the kids want to come too, and that's just fine. Kennedy loves hearing about the cars, or anything her dad wants to talk about. Denver is of the age now where he's dreaming his own dreams about the vehicles we find. Molly just likes tagging along and romping through the grass of the courthouse lawn.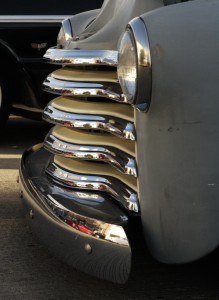 Most of the time we choose to go it alone. Erik with his car knowledge, me with my camera, and spend an hour or two on the square. Every first Friday from 5-9 p.m., May to October, Danville hosts the Cruise-In. It's cars, music, and fun; a great way to spend a summer evening all around, if you ask me. Kids of all ages are welcome to ogle the cars and ask questions. So swing on by the square in Danville on May 2 for the first Cruise-In of the summer. I know we'll be there!