Want to begin summer with a bang?
Danville Public Library
and the
Hendricks County Historical Museum
are sponsoring the 2nd annual
Civil War Heritage Days
on June 23 and 24 in Danville, Indiana, and it's shaping up to be twice the event it was last year. This celebration recognizes the 150th anniversary of the Civil War and not only honors those who served, but paints a holistic picture of what life was really like during that time. I was excited to learn about this celebration because it offers something unique (and free!) to do in the summer beyond the typical pool, park and food opportunities.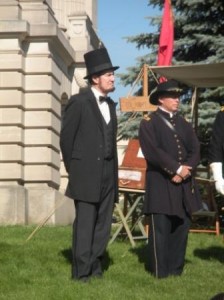 Civil War Heritage Days will offer agricultural, historical, musical and a variety of other presentations. There's an extensive lineup of specific
events
for this two-day festival, but below are five things that I (and YOU) will need to check out this year:
1. Re-enactments and Living History
This year, Civil War Days will feature both Union and Confederate re-enactments, as well as walking, talking portrayals - Abraham Lincoln and General Ulysses S. Grant being the most noteworthy. Events will include Civil War Units, Agriculture & Transportation Display, Music, History Displays, Art Displays, High Tea at Court House Grounds, Hendricks County CW Veterans Honor Roll, Living History Presentations, a Civil War church service and many other activities. 2. 
Grand Ball
As a special addition this year, Civil War Days has added a Grand Ball inside the Hendricks County Courthouse. A dance workshop is available Friday for anyone who would like to learn the dances beforehand. While the workshop is free, the Ball admission itself will be $10 a person. You can see dancers twirl and experience a true 1860's social event at 7 p.m. Saturday - the coolest thing about this event is that all of the traditional dance etiquette will be followed to ensure there will be no "kissy face" or other scandalous behavior, such as women showing their ankles.
3. Music
What's a celebration without music? The Civil War Days will feature a variety of music - including members of the Central Indiana Folk Music and Mountain Dulcimer Society and local bluegrass musicians.  These musicians will provide entertainment that can be heard on the square during the entire festival.
4. High Tea
A High Tea will be served at Court House Grounds, which includes all the things I have grown to love at the cafe - such as sandwiches, sweets, chocolates and tea. Besides the Ball, High Tea is the only event that requires paid admission ($15), but based on the menu alone, it will be worth shelling out a few bucks for one of the two High Teas - at 2 p.m. and 4 p.m. Saturday. I would suggest getting your tickets from either the Danville Public Library or Court House Grounds soon. Seating is limited!
5. Memorabilia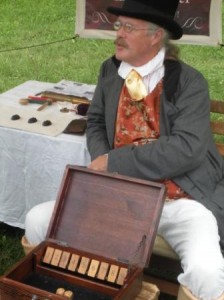 To me, this is the most exciting part of the event. Actual memorabilia from the Civil War will be on display in the Danville Public Library's Indiana Room. Letters and documents from the war and authentic photographs will be featured. Examples of Civil War military papers and pension papers also will be available. Events will be held at the Danville Public Library, Hendricks County Historical Museum, Hendricks County Courthouse and Square and the Hendricks County Government Center. Vendors and sutlers will also be around for the two-day celebration - as well as the implementation of a new food court! Check out the Civil War Heritage Days
website
and their Facebook
page
to see pictures from last year's event and keep up with what's going on this year!
Enjoyed last year's Civil War Heritage days? Share by posting a comment below!