So many restaurants abound in
Hendricks County
that you can find any kind of food for whatever mood strikes you. As a fan of Italian food, I recently enjoyed a fun dinner at
So Italian!
in
Brownsburg, Indiana
.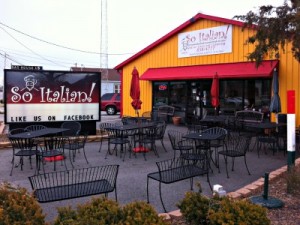 I'd passed by So Italian! a few times and heard from a friend they have good pizza and reasonable prices.  My parents and I stopped by for an early weeknight dinner. We were all in the mood for Italian food and decided it would be a good time to try So Italian. So Italian is a locally-owned restaurant that's been in business since 2009. They're known for their pizza and pastas and have a lengthy menu which includes appetizers (breadsticks!), soups, salads, sandwiches, calzones and desserts. We walked inside So Italian and immediately liked the family-friendly and cozy atmosphere. You order and pay at the counter, so we walked over to the counter and looked over the menu a bit. After we ordered, we received a number to take to our table and were told that our server would deliver our food and drinks. So Italian serves beer and wine at very reasonable prices. So, my mom and I ordered a glass of wine to enjoy with dinner. We decided to order a variety of items and split them all - which is always fun for us. I enjoy trying a bit of everything. What we ordered for dinner:
Chef Salad ($4.25), with blue cheese and balsamic vinaigrette. We enjoyed this mixed green salad with cucumbers, tomatoes, onion, ham and homemade dressings. I always like a bit of salad with dinner, and this was a pleasing dinner salad.
Minestrone soup (around $2.19 for a cup). This homemade soup had a good mix of vegetables, pasta and bacon.
Meatball sub ($6.25 and served with chips). My dad is a fan of meatball subs and said So Italian's meatball sub was quite tasty. I didn't get a chance to taste it — but doesn't it look good!
12" pepperoni pizza ($7.99 with cheese and $1 per topping). I feel it's my duty to try as many slices of pizza as I can. I enjoyed So Italian's pizza with its thin, homemade crust, tangy sauce and a nice mix of cheeses. It hit the spot.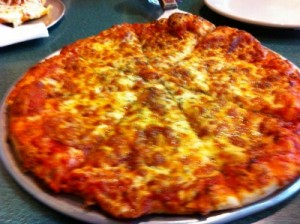 We had plenty of food for the three of us and even enough pizza leftover so that I could enjoy it for lunch the next day. By the time we finished our dinner, the restaurant was completely packed. There are definitely a lot of So Italian fans out there. I'm looking forward to my next visit to try one of the pasta dishes or maybe a calzone. I can't decide. If you're looking to try one of the family-friendly Italian restaurants in Hendricks County — keep So Italian on your list. So Italian515 E. Main St., Brownsburg,Phone:
(317) 858-4777.
Hours: 11 a.m.-9 p.m., Monday through Saturday; Closed Sunday. 
What's on the menu:
So much! Appetizers, salads, soups, sandwiches, pastas, pizzas, calzones and desserts.
Tips:
So Italian is family-friendly so don't forget to bring the kids. It's a popular Brownsburg restaurant so get there early. It gets crowded early.
Carryout:
Too busy to dine in? No worries, you can get your Italian meal to go.
Dining outside:
I think it's fun to dine outdoors, and I can't wait until it warms up so I can sit at one of the outdoor tables in front of So Italian.
If you've been to So Italian before I'd love to hear your thoughts. What's your favorite thing there? Leave a note in the comments!